call to action
A Rise Up Midwest! Publication
Help Create a Just Energy Transition
We've partnered with four Midwest organizations in Indiana, Minnesota, Michigan, and Wisconsin that are dedicated to environmental and climate justice to bring industry leading solar technical training and workforce development opportunities to their member-led communities. This program is intended to expand employment access in advanced energy by providing training scholarships and paid internships to students.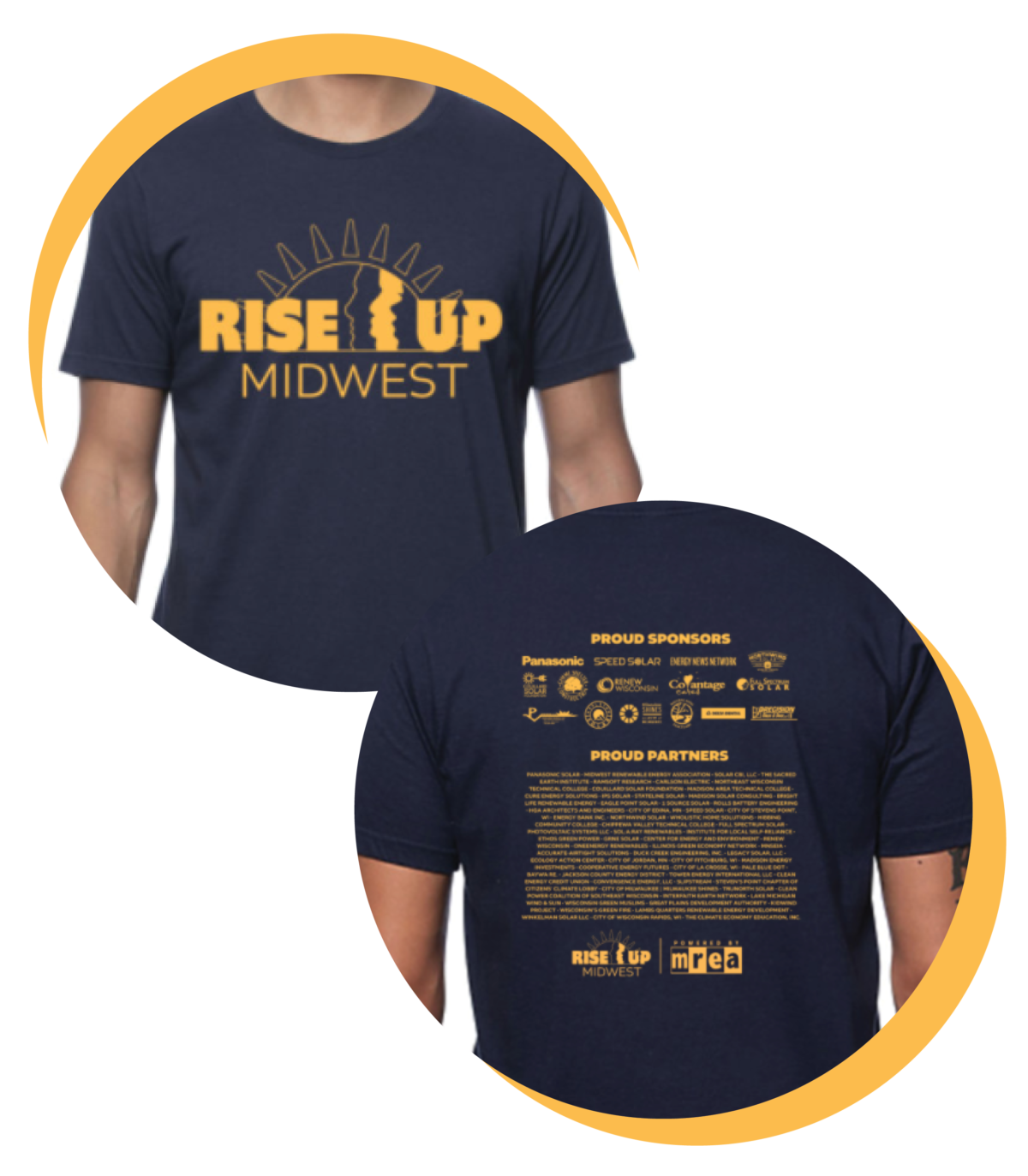 Buy a Rise Up T-shirt and you'll directly support solar workforce development efforts by funding our partnerships to provide renewable energy training scholarships and paid solar internships to students in underrepresented Midwest communities.
Special thanks to Walnut Way for printing the official Rise Up! Midwest T-shirt through their Designaway apparel printing program. 
The Rise Up Midwest! Call to Action is intended to both educate and guide Midwest households, businesses, jurisdictions, and state leadership on clean energy programs and policies by amplifying Midwest clean energy experts and case studies. It is equal parts public education and call to action.
The publication provides a detailed justification for energy efficiency and clean energy market development by sharing Midwest success stories, relevant research, case studies, and testimonials, offering readers ways to get involved, take action, and replicate what's being done throughout the Midwest.
Can the Midwestern United States be a global leader in the clean energy transition? Of course we can! Midwest states and cities are advancing some of the most promising policies and programs to build the energy economy of the future.  And, our communities, business leaders, public institutions, electric utilities, and private foundations are making bold commitments and investments in clean energy. 
We believe that with the investments we've made and the resources we have, the Midwest will be a global leader in the transition to clean energy. We see a future where people around the world look to our region to understand how a centralized, calcified, monopolized, and fossil fuel dominated energy economy can transition into one that is open, competitive, advantageous, clean, and resilient. And, how it can be done to best benefit local communities. 
Let's put people to work. Let's make home and business investments that reduce expenses for the long-term. Let's build a strong and resilient electric grid that weathers future crises. Let's invest our energy dollars locally. Let's expand existing Midwest clean energy policies and programs that work. Let's build an energy economy that best serves people and the places we live and love. RISE UP MIDWEST! Address: 7558 Deer Rd. Custer, WI 54423
Email: info@riseupmidwest.org
Phone: 715-592-6595
The Midwest Renewable Energy Association (MREA) is a non-profit organization with the mission to promote renewable energy, energy efficiency, and sustainable living through education and demonstration.