Subscribe to the Rise Up Podcast Newsletter, and get the latest episodes sent to your inbox!
Welcome to a NEW Rise Up Podcast season—
focused on the energy transition

in Midwest states

. 
This season, MREA Executive Director Nick Hylla talks to a range of solar professionals working to improve the energy system in Midwest states. Enjoy engaging discussions
focused on the decisions we'll need to make regarding electric utility regulation, distributed energy resources, building energy efficiency, large-scale solar, and wind development, transmission build-out, small modular nuclear reactors, electric vehicles, critical mineral needs, workforce readiness, energy justice, and more.
Rise Up Midwest!
CHECK OUT LATEST EPISODES
Made possible with support from the Sally Mead Hands Foundation.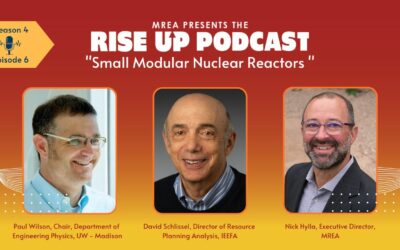 Discover the future of nuclear energy in the US as we explore its declining share in the global portfolio, financial pressures, and critical public policy questions. Join our experts as they discuss the role of US nuclear in a low-carbon electricity future, the potential of small modular reactors, and the challenges faced by the industry. Tune in for insights from Paul Wisconsin, Grainger Professor of Nuclear Engineering, and David Schlissel, Director of Resource Planning Analysis. Don't miss this engaging discussion on the present and future of nuclear power.
read more
RISE UP PODCAST LIVE EVENT!

Join your host Nick Hylla for a live podcast panel during The Energy Fair! Hear from the guests of Season 4, followed by a Q&A session. Tickets are on sale now. The Energy Fair takes place June 23-25, at MREA in Custer, WI. 
Address: 7558 Deer Rd. Custer, WI 54423
Email: info@riseupmidwest.org
Phone: 715-592-6595

The Midwest Renewable Energy Association (MREA) is a non-profit organization with the mission to promote renewable energy, energy efficiency, and sustainable living through education and demonstration.