Together we can inspire sweeping change, transition our energy economy, and put people to work.
Rise Up Midwest! is creating a coalition of organizations across the Midwest to work in coordination to create a groundswell of support for commonsense, strategic, and swift clean energy policy action and market development. If your business, jurisdiction, nonprofit, or association agrees with the belief statements below, we encourage you to join us as a partner through our online form below. 
There is no cost to partnering, and Rise Up will solely use your organization's name in conjunction with these belief statements.  Partnership is available to all institutions, including Rise Up Sponsors, Promotional Partners, and MREA Business Members, as well as institutions that are unable to support this movement financially.
For more information on partnership, contact Amanda at amandas@midwestrenew.org.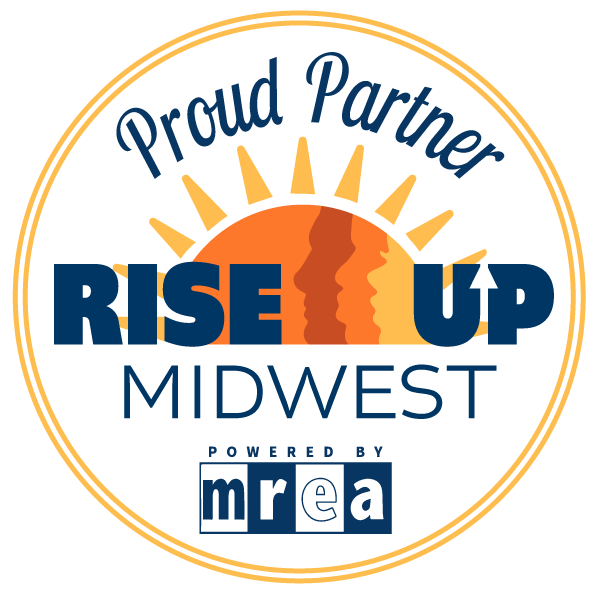 RISE UP MIDWEST! BELIEF STATEMENTS
We believe that we need a swift and strategic state and local response to stem a long-term economic downturn and make the new normal even better. The COVID-19 threat and the public response to it will put stress on public services and private businesses for years to come.  
We believe that our efforts must provide real and durable solutions that help resolve social and economic inequity. The most severe impacts of the recession are being felt by small businesses, middle to low-income earners, and local jurisdictions. Our work must prioritize opportunity, investment, and jobs for communities most in need. A local, clean energy response represents a clear opportunity. 
We believe that the clean energy industry has the capacity to create significant local employment opportunities that contribute to widespread economic recovery. With the persisting and growing need to work and school from home, home performance and energy use are now critically important to household and business budgets. Energy efficiency and distributed energy technologies are market-ready, cost-effective, affordable, and scalable in all market sectors.  
We believe that by working together, engaging the public with meaningful educational resources, avoiding partisanship, and focusing on local and state actions we can create market conditions that rapidly grow efficiency and distributed energy investments, create widespread employment opportunities, provide long-term utility rate-payer savings, reduce home and business energy expenses, and improve grid resiliency. 
We believe in the people of the Midwest and the places we live in and love. Rise Up Midwest! Address: 7558 Deer Rd, Custer, WI 54423
Email: info@riseupmidwest.org
Phone: 715-592-6595

The Midwest Renewable Energy Association (MREA) is a non-profit organization with the mission to promote renewable energy, energy efficiency, and sustainable living through education and demonstration.