Our work
Rise Up Solar Training Partnerships & Scholarships
About the Rise Up Solar Training Scholarship 
Established to expand access to workforce development opportunities in the renewable energy field, MREA's Rise Up Scholarships provide recipients with free, industry-leading solar technical training and paid internship opportunities. 
Through this program, scholarship recipients will participate in courses designed to take them from introductory basics to advanced, hands-on solar training. With no prerequisites or previous experience required, the Rise Up Scholarship Training Program provides recipients a springboard into the renewable energy field, qualifying graduates to design, sell, install, and maintain solar systems in a supervised capacity. 
MREA's Rise Up Scholarship campaign raises funds to cover program costs.
2021 Campaign Impact
⇒ 145 individual donors contributed to the campaign
⇒ $35,493 was raised to fund training scholarships for selected students
2020 Campaign Impact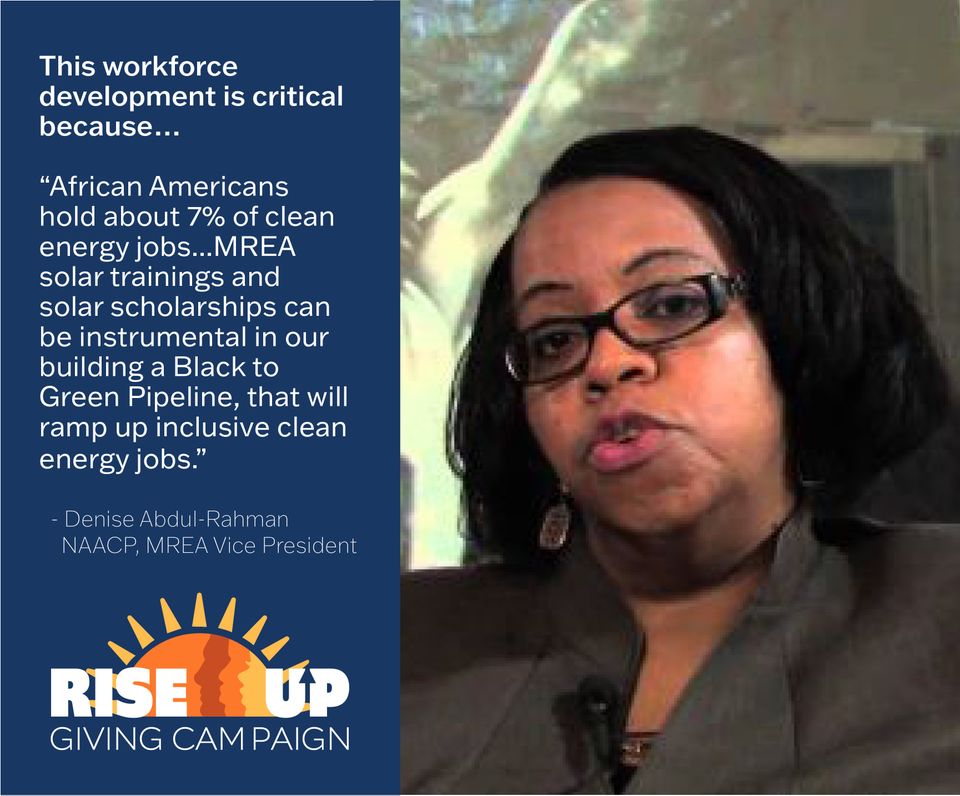 ⇒ 283 individual donors contributed to the campaign
⇒ $31,300 was raised to fund training scholarships for selected students
⇒ 37 students were awarded training  scholarships in conjunction with community partners
Student Scholarship Application
Each scholarship grants the awardee  free, entry-level solar training  as well as  the  opportunity to attain their NABCEP PV Associate Credential. Training details are to be determined by each community organization. Recipients will also be encouraged to apply for a select number of paid solar internships.
Applicants are evaluated based on motivation, enthusiasm, leadership skills, and commitment. Candidates must fit one or more of the following descriptions below:
⇒ unemployed
⇒ underemployed
⇒ formerly incarcerated
⇒ those aged 18-25
⇒ BIPOC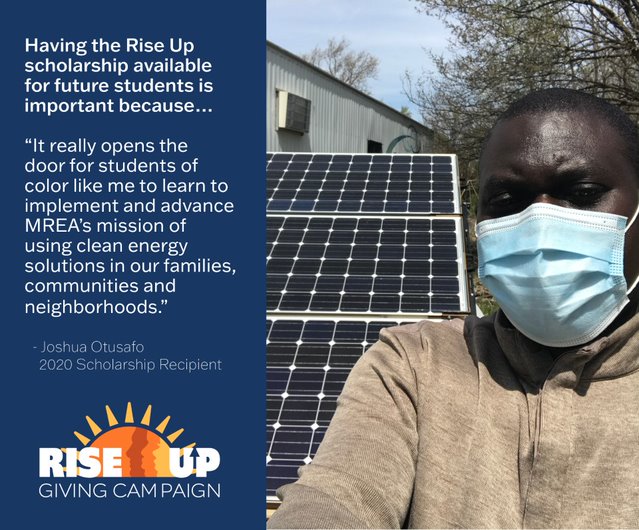 Any questions concerning these Rise Up Scholarships and Training can be directed to the MREA's Training Department: courses@midwestrenew.org
Rise Up Training Host Partner Application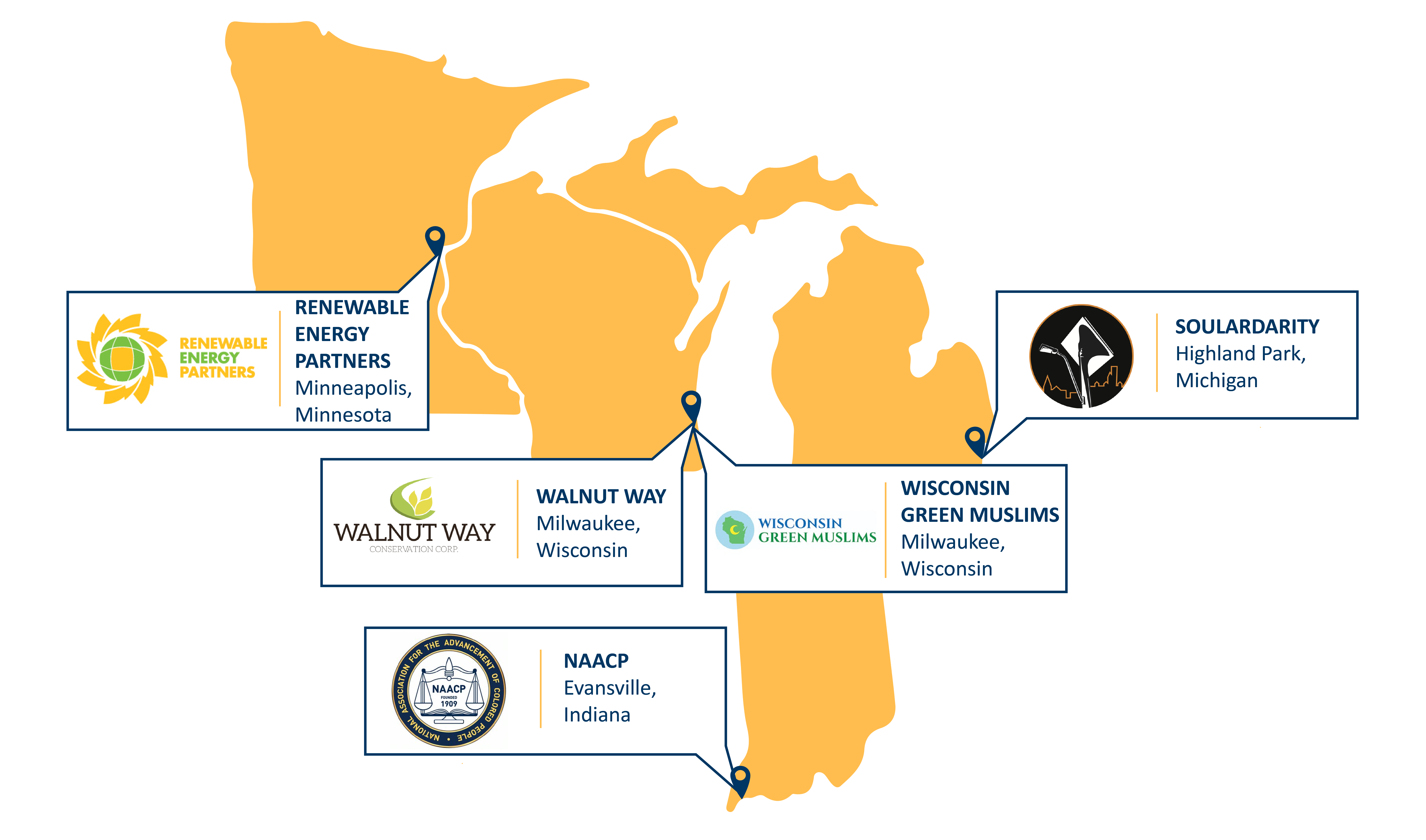 Bring Rise Up Solar Training to YOUR Community!
To facilitate scholarship applications and support recipients during their training, we partner with community organizations across the Midwest that serve the needs of people who are unemployed, underemployed, formerly incarcerated, women of color, or live in historically excluded communities that could benefit from a solar workforce training program for residence.
We're seeking partner organizations to help us serve communities in economically distressed areas of Indiana, Minnesota, Michigan, and Wisconsin. 
Meet Some of Our Rise Up Training Host Partners
NAACP Environmental and Climate Justice Program
Indiana: Environmental injustices, including climate change, have a disproportionate impact on communities of color and low-income communities in the United States and around the world.  The NAACP ECJ Program was created to provide resources and support community leadership in addressing this human and civil rights issue by advocating for these three objectives: Reduce Harmful Emissions, Particularly Greenhouse Gases, Advance Energy Efficiency and Clean Energy and Strengthen Community Resilience and Livability. 
Renewable Energy Partners
Minneapolis, Minnesota: Renewable Energy Partners (REP) is a certified Minority Business Enterprise that develops solar and clean energy projects, and is leading the effort to establish the Regional Apprenticeship Training Center (RATC) in North Minneapolis. RATC will provide low-cost, accessible training to students and adults from under-served, low-income communities. Training will include skills and career paths in renewable energy, energy efficiency, building science, energy storage, electric vehicles, and other sustainable technologies that allow urban neighborhoods to mitigate and adapt to the effects of climate change.
Soulardarity
Highland Park, Michigan: Soulardarity is a democratic membership organization building energy democracy in Highland Park, MI and neighboring communities through education, organizing, and community clean energy. The organization was formed in response to the repossession of over 1000 of Highland Park's streetlights by DTE Energy, the investor-owned monopoly utility in SE Michigan, working to install community-owned solar powered streetlights to replace those removed by the utility. Soulardarity's four main program areas include: 1) Organize for sustainability and self-determination through the Highland Park Campaign, rooted in the Blueprint For Energy Democracy released in 2019, 2) Co-Lead the Work For Me, DTE Campaign with the Michigan Environmental Justice Coalition, which targets the Michigan Public Service Commission to secure health, affordability, and clean energy for our communities, 3) Incubate Polar Bear Sustainable Energy, a cooperative energy enterprise that will provide holistic energy services to households facing barriers to access for clean energy, energy efficiency, and other household services, and 4) Build an engaged Membership that is practicing democracy, leadership development, and collaborative work across the community. 
Walnut Way Conservation Corp.
Highland Park, Michigan: Located in the heart of the Lindsay Heights neighborhood,  Walnut Way Conservation Corp. is a resident-led neighborhood organization that is committed to sustaining an economically diverse and abundant community through civic engagement, environmental stewardship, and creating venues for prosperity. Chartered by neighborhood residents in 2000, Walnut Way challenges the cycle of poverty by engaging, educating, and employing community members to take leadership roles in comprehensive revitalization strategies. Walnut Way works from strengths-based programming and is called to a vision of abundance. Since its purposeful beginnings, Walnut Way has reclaimed its neighborhood with compassionate and involved residents.
⇒ Listen to Walnut Way's Climate Resiliency Story on 89.7 FM
Wisconsin Green Muslims
Milwaukee, Wisconsin: Wisconsin Green Muslims is a grassroots environmental justice group formed in 2005 connecting faith, environmental justice, sustainability, and healing through education and service. Wisconsin Green Muslims is partnering with MREA on our Rise Up scholarship program to offer solar training scholarships for women of color.
Wisconsin Green Muslims coordinates the Faith Communities for Equitable Solar Initiative. This interfaith program centers on the unifying power of solar energy to bring people of faith, spirituality, and goodwill together to address the climate crisis, care for Earth and each other, save money to reinvest in their missions, and move toward an equitable 100% renewable energy future. Learn more about their Faith and Solar initiative.
Call to Action Publication
This Midwest is advancing some of the most promising policies and programs to build the clean energy economy of the future. Our states, communities, business leaders, public institutions, electric utilities, and private foundations are making bold clean energy commitments and investments. 
We see a future where people around the world look to our region to understand how a centralized, calcified, monopolized, and fossil fuel-dominated energy economy can transition into one that is open, competitive, advantageous, clean, and resilient. And, how it can be done to best benefit all communities. 
Our Rise Up publication provides a detailed justification for energy efficiency and clean energy market development by sharing Midwest success stories, relevant research, case studies, and testimonials, offering readers ways to get involved, take action, and replicate what's being done throughout the Midwest. It is equal parts public education and a call to action, intending to both educate and guide Midwest households, businesses, jurisdictions, and state leadership.
Published in 2020.
MREA's Rise Up Scholarship campaign raises funds to cover program costs. Address: 7558 Deer Rd. Custer, WI 54423
Email: info@riseupmidwest.org
Phone: 715-592-6595
The Midwest Renewable Energy Association (MREA) is a non-profit organization with the mission to promote renewable energy, energy efficiency, and sustainable living through education and demonstration.