Friends of the MREA,
Our moment has a clear calling: Social and Economic Justice.
Of all the challenges that our country faces, this one may be the most difficult. When nationwide observances and protests are effective in focusing the public's attention and generating good will and solidarity, then what?
We find ourselves in that moment today. Yet, at this same time, the scale and severity of economic injustice in our country has dramatically increased due to the global pandemic and the immediate federal response. This occurs as nations around the globe are experiencing the same dramatic exacerbation of social and economic inequity. This is a local and a global problem. In the US and around the world, the least resourced among us have been most impacted physically and economically by the pandemic.
In our country we are experiencing this crisis most intensely through gruesome acts of racially-motivated violence. For those of us isolated from racial violence, this must be our wake up call. The sadness, disgust, and anger that this inspires in me, the people that work at the MREA, and millions of people around the country must be harnessed into positive actions and cannot be left to turn into complacency. The actions must grow opportunity, build bridges, and work toward resolution and prosperity.
So what can the MREA do?
For 30 years, the mission of the MREA has been to "promote renewable energy, energy efficiency, and sustainable living through education and demonstration." It was the commitment to "demonstration" in the MREA's mission and actions that have inspired me to join and be part of this organization for more than 10 years. Leading by example, walking the talk, putting the "doable in renewable," testing our ideas, gaining experience, and sharing our hard-earned and honest results; This is the work of demonstration.
When it comes to our organization's work on social and economic justice issues, we have a lot more to do to demonstrate our commitment.
I am writing to you today to make that commitment. 
The truth of this moment is that if we are to see significant and positive change, then every person, business, organization, foundation, and unit of government who can do something must try. Though we desperately need the titans of corporate America, many of whom are flush with windfall profits due to astounding levels of federal financial support, we cannot wait for them to share the wealth. We must push them hard, but we cannot wait.
At the MREA, we are leveraging our current capacities to take the following immediate actions: 
1. We are moving forward with the board of directors to review our organization's mission and vision to ensure that we have a priority focus on social and economic inclusion. This includes educating our leadership and staff about social justice and antiracism work. The work will touch all aspects of our operations and programming.
2. We are proposing to double our budget expenditures for workforce training and job placement efforts with communities in need in our next fiscal year beginning July 1. We have already completed 12 trainings with groups in Illinois, Wisconsin, Minnesota, and Puerto Rico. We need to learn from our experience and do more.
3. We will strongly support state and local policies that provide access to clean energy, energy efficiency, local energy investment, and energy industry employment in communities most in need.
In April of this year, the MREA launched the Rise Up Midwest public education campaign to promote clean energy and energy efficiency as critical to economic recovery and we already have 50 organizational partners that have committed to our belief statements. At that time, we anticipated that the federal response would favor the wealthy and the politically connected. We anticipated that the most economically vulnerable would be the most impacted. We anticipated that the difficult work would be left to state and local leadership. And, we fully understood a critical part of the solution: that investments in local, clean energy would provide widespread employment and support economic development.
Even with this foresight we still failed to fully understand the degree of social anxiety and economic fragility in many of our communities and the critical need to address the structural issues that cause them. With this in mind, we are adding a new priority to our campaign:
We believe that our efforts must provide real and durable solutions that help resolve social and economic inequity. Our work must prioritize opportunity, investment, and jobs for communities most in need.
We have been forming new partnerships over the past three years and are committing to expand our efforts in every way we can. This is where we are starting. We hope you will join us.
In solidarity. Rise Up Midwest!
Nick Hylla, and the MREA Team
Midwest Renewable Energy Association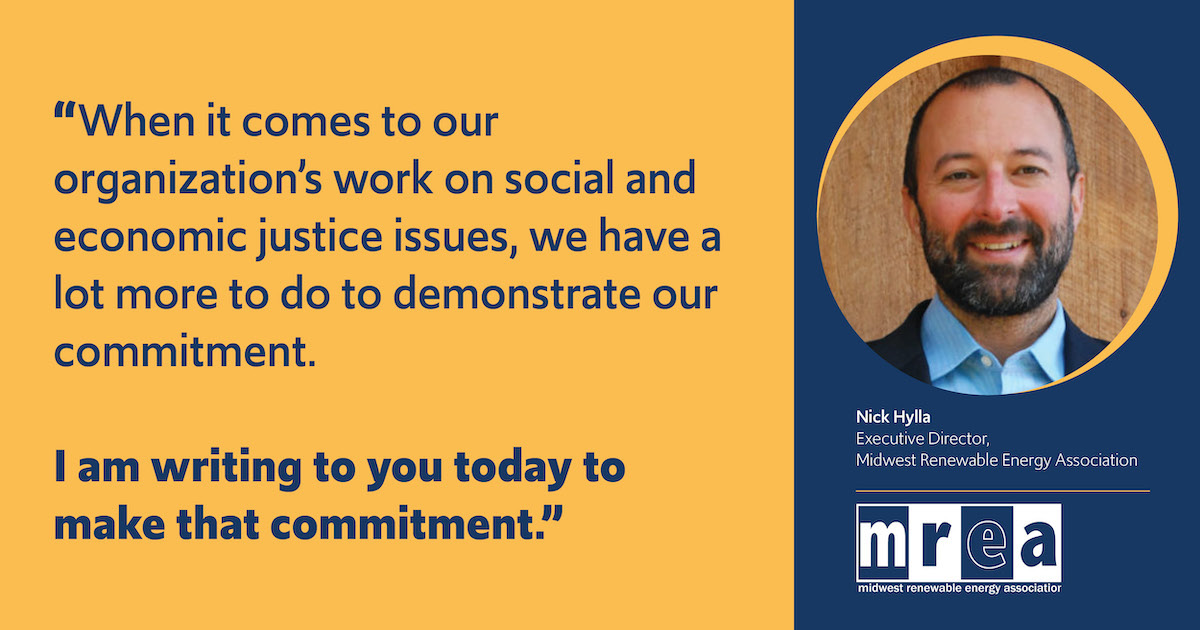 "The country is in deep trouble. We've forgotten that a rich life consists fundamentally of serving others, trying to leave the world a little better than you found it. We need the courage to question the powers that be, the courage to be impatient with evil and patient with people, the courage to fight for social justice. In many instances we will be stepping out on nothing, and just hoping to land on something. But that's the struggle. To live is to wrestle with despair, yet never allow despair to have the last word."  ― Cornel West
 
Listen, Learn, and Take Action
Learn More About Rise Up Midwest!
Let's stimulate "Main Street" energy investment and grid modernization in response to the COVID-19 recession.
Your support is essential.
Sign up For Action Alerts
Receive real-time emails highlighting news articles, relevant resources, local successes, and ways to get involved.
Partner with Rise Up 
We believe in the people of the Midwest. We believe the clean energy industry has the capacity to collaborate, create jobs, & contribute to an economic recovery. If you agree, join the coalition as a partner today.
Support Rise Up Midwest!
Our success is made possible by support, participation, and funding of our members, donors, and sponsors. Thank you! Address: 7558 Deer Rd. Custer, WI 54423
Email: info@riseupmidwest.org
Phone: 715-592-6595

The Midwest Renewable Energy Association (MREA) is a non-profit organization with the mission to promote renewable energy, energy efficiency, and sustainable living through education and demonstration.