"Climate and Equitable Jobs Act"
Season 2 • Episode 5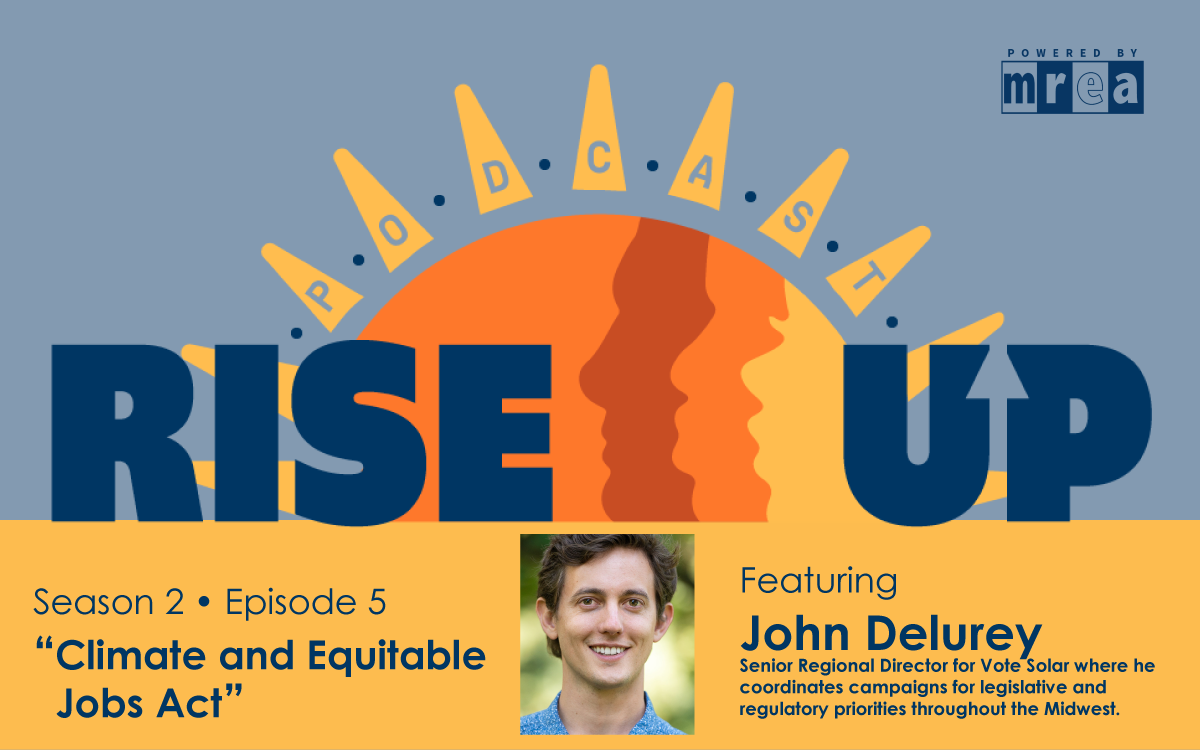 What happens when a strong coalition engages energy stakeholders and works tirelessly to chart an equitable renewable energy future in Illinois? We spoke with John Delurey to find out.
As Senior Regional Director, John coordinates campaigns for Vote Solar's legislative and regulatory priorities throughout the Midwest. Prior to joining Vote Solar, John built programs for a residential solar company that made solar more accessible for environmental justice communities to access rooftop solar. He believes that the climate crisis provides an invitation to begin addressing long-standing economic injustice, and that historically overburdened communities should lead the way to our renewable energy future.
Signing up for our Action Alerts means you'll be alerted as soon as the latest episode is available for listening on our website.
Vote Solar is a non-profit policy advocacy organization with the mission of making solar more accessible and affordable across the United States.
It works at the state-level in more than 25 states to drive the transition to a just 100% clean energy future.
The Empowered, Delurey's Rise Up Call to Action Article, pgs. 18-19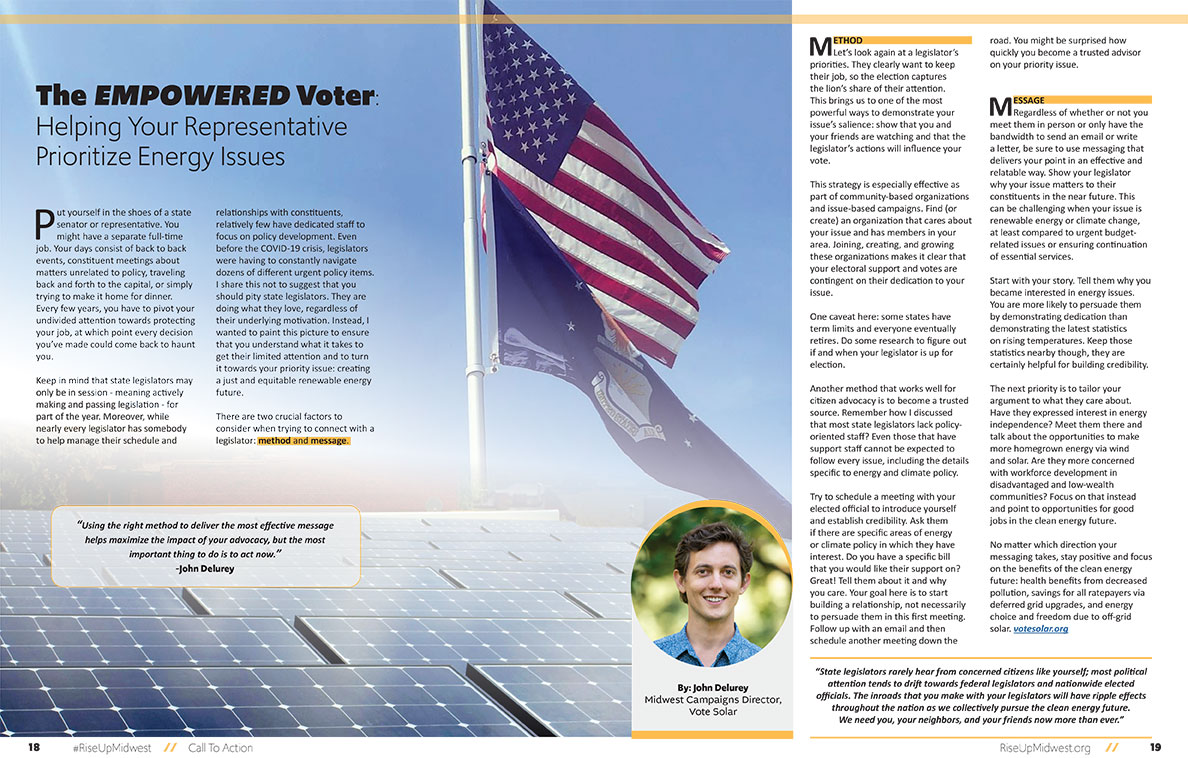 The Illinois Clean Jobs Coalition (ICJC) is made up of hundreds of Illinois organizations. The ICJC played a central role in the passage of the Future Energy Jobs Act (FEJA) in 2016 and the Climate and Equitable Jobs Act (CEJA) in 2021.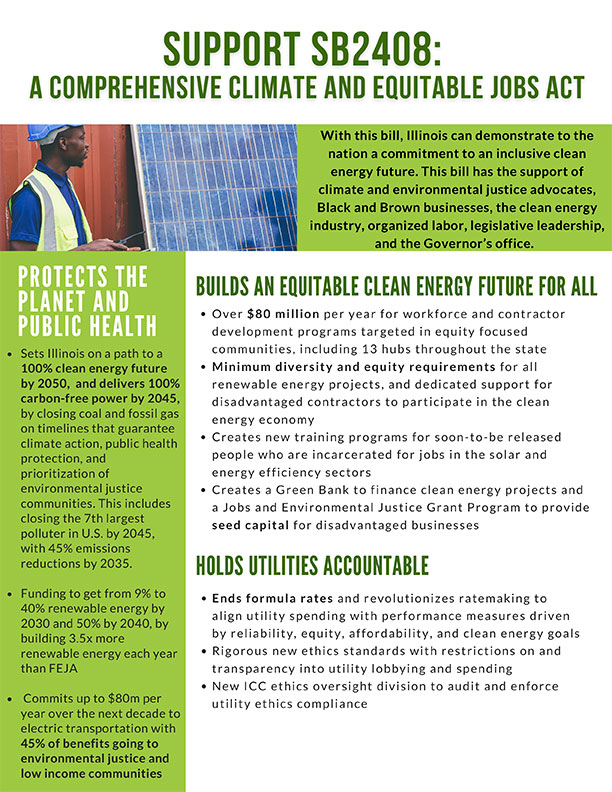 "This bill is like nothing I've ever seen, certainly in the Midwest, possibly in the country, and that's not just because of how quickly we're going to be putting megawatts on the board, it's also how comprehensive this legislation is. It's the first thing that I've seen firsthand that feels like an appropriate response to the urgency of the climate crisis."
-John Delurey

From the Midwest and beyond, the Energy News Network provides daily updates on the transition to a clean energy economy. Sign up for any of our free daily regional newsletters at energynews.us.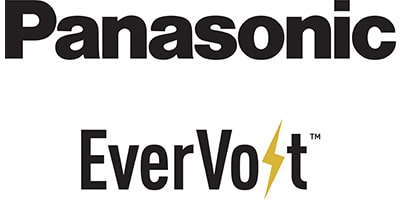 Offer homeowners best-in-class solar and battery storage in one high-powered bundle – all from one company you know you can trust. Panasonic's new EverVolt™ Series solar panels are available in up to 380-watt models, and work with their EverVolt battery storage to deliver the total home energy system.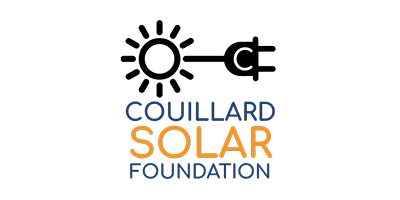 The Couillard Solar Foundation promotes the expansion of solar energy in Wisconsin through partnerships with renewable energy focused, Wisconsin-based organizations, including MREA.  
For more information on how your organization can sponsor a future Rise Up podcast episode, view the details on the Rise Up Midwest supporter page, or contact Gina. Address: 7558 Deer Rd. Custer, WI 54423
Email: info@riseupmidwest.org
Phone: (715)-592-6595
The Midwest Renewable Energy Association (MREA) is a nonprofit organization with the mission to promote renewable energy, energy efficiency, and sustainable living through education and demonstration.