We already know how important the clean energy sector is, employing more than 1 in every 50 Americans in 2019. But what do those jobs look like, and what do they pay?
The first-of-its-kind Clean Jobs, Better Jobs report released by E2, the American Council on Renewable Energy, and the Clean Energy Leadership Institute finds the median clean energy wage is about $23.90—about 25% higher than the national median ($19.10) and more than double the median in other sectors most impacted by the COVID-19 pandemic such as retail trade and accommodations. Additionally, clean energy jobs are more likely to come with health care and retirement benefits than jobs across the private sector and are more unionized than the rest of the U.S. private sector (9% to 6%).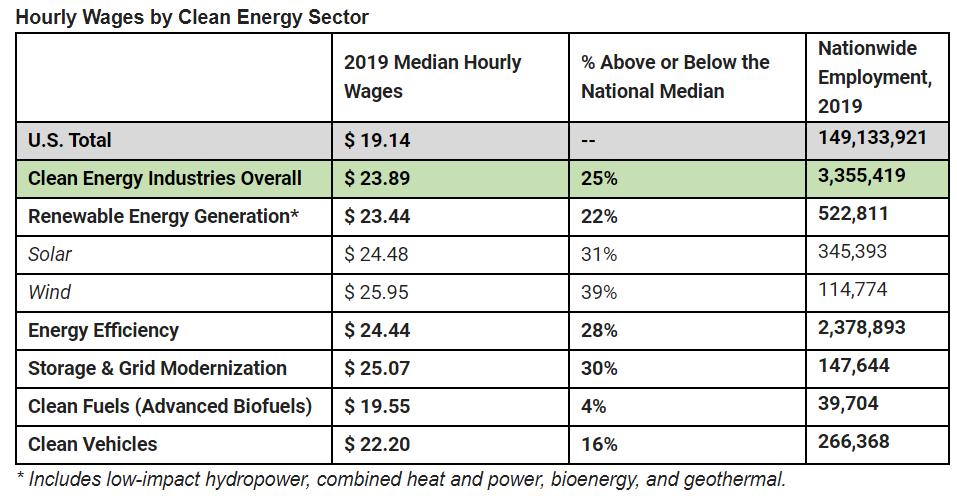 The report includes breakdowns at the state level, by sector, and detailed profiles on 15 specific clean energy occupations, including solar PV installers, wind turbine technicians, construction laborers, wholesale trade representatives, plumbers, electricians, and more.
Of particular note is the report's comparison to the fossil fuel sector median wages. Contrary to many perceptions, many clean energy jobs pay better than fossil fuel jobs. Fossil fuel extraction-related jobs in coal, gas and petroleum—including mining, fracking, and drilling—paid $24.37 an hour, while the entire energy efficiency sector combined for a $24.44 median hourly wage and solar and wind jobs combined for $24.85. Clean energy industries also employed about three times more workers than fossil fuels did in 2019, and, unlike fossil fuel jobs, clean energy jobs are available in every state, regardless of geology or geography.
Additional Resources:
For more information on clean energy career and training opportunities, visit the Midwest Renewable Energy Association's Midwest Solar Job Resource Center, a regional marketplace to learn about career and training opportunities, and apply for regional jobs and internships.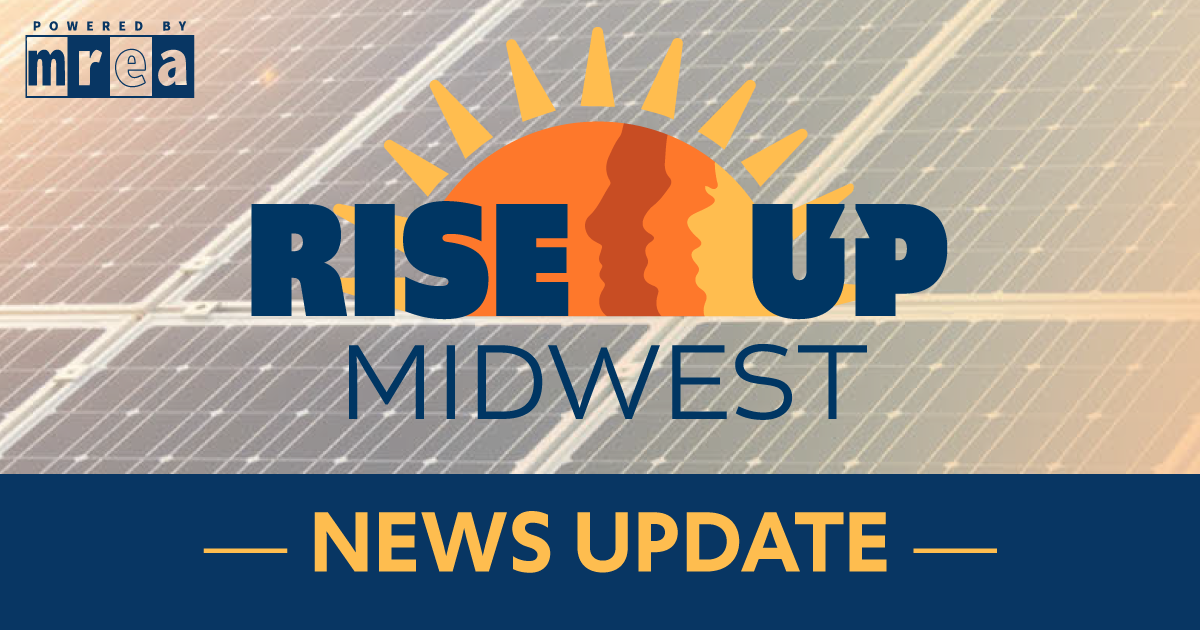 Listen to the Rise Up Podcast
The Rise Up Podcast brings real-time, relevant energy and policy information to Midwest stakeholders. 
Sign up For Action Alerts Receive real-time emails highlighting news articles, relevant resources, local successes, and ways to get involved.
Partner with Rise Up 
We believe in the people of the Midwest. We believe the clean energy industry has the capacity to collaborate, create jobs, & contribute to an economic recovery. If you agree, join the coalition as a partner today.
Support Rise Up Midwest!
Our success is made possible by support, participation, and funding of our members, donors, and sponsors. Thank you! Address: 7558 Deer Rd. Custer, WI 54423
Email: info@riseupmidwest.org
Phone: 715-592-6595

The Midwest Renewable Energy Association (MREA) is a non-profit organization with the mission to promote renewable energy, energy efficiency, and sustainable living through education and demonstration.