Join E2 December 7 – 9 for Clean Energy Days of Action in Illinois
On behalf of one of our Rise Up partners, Environmental Entrepreneurs (E2), we share the following event, asking IL clean energy businesses to advocate for clean energy in the state. E2 is a national, nonpartisan group of business leaders, investors, and professionals from every sector of the economy who advocate for smart policies that are good for the economy and good for the environment. 
Background & Update
In 2016, Governor Rauner signed the Future Energy Jobs Act (FEJA) into law and made Illinois a clean energy leader in the Midwest. Now four years later, Illinois can build on the success of FEJA with new comprehensive energy legislation like the Clean Energy Jobs Act. CEJA was created with the goal to put Illinois on a path to 100% renewable energy by 2050 and build stronger, remove the equivalent of 1 million gasoline and diesel vehicles from the road, and build more equitable and healthier communities.
The issue of clean energy couldn't be more urgent. The industry – which was growing 5 times as fast as overall state employment before the pandemic – needs a lifeline. The pandemic has led to the loss of over 10,000 clean energy jobs. And without legislative action the solar industry is headed towards a funding cliff that will further curtail what was a promising and growing industry. Clean energy can and should be at the center of our plans to build back a stronger, clean, more resilient economy.
While E2 had hoped to tackle energy legislation this year, 2020 has thrown a few curveballs. In addition to a truncated legislative session due to the pandemic, the announcement of Com-Ed bribery charges put energy legislation on hold in Springfield for several months. Activity restarted in August when Governor Pritzker shared his own agenda. The governor's eight principles for a clean and renewable Illinois economy include holding utilities accountable, expanding consumer affordability protections and implementing market-based solutions that support clean power and puts Illinois on a path toward 100% clean energy. The Governor convened working groups throughout the Fall for primary stakeholders to discuss key aspects of energy reform.
E2 expects the Governor to release his own bill now that working groups have concluded and are advocating to ensure the Governor's bill includes what we care about most: transition to renewable energy, expansion of clean energy training programs, increasing energy efficiency across the state and electrifying transportation.
While we wait for more clarity on what will be included in a Governor's bill, its critical we start meeting with Illinois lawmakers. E2 needs your help to convey clean energy priorities and make clear to lawmakers how urgently Illinois needs comprehensive clean energy legislation.
How to Get Involved
Consider joining E2 on December 7-9 for Clean Energy Days of Action. They'll be organizing virtual lobby meetings with Illinois lawmakers to make the case for CEJA and comprehensive clean energy legislation. Click here if you're interested in participating in lawmaker meetings and let E2 know which days you are available.
E2 will provide talking points and host an advocacy training session in advance of our virtual meetings. All meetings will be with other E2 business voices.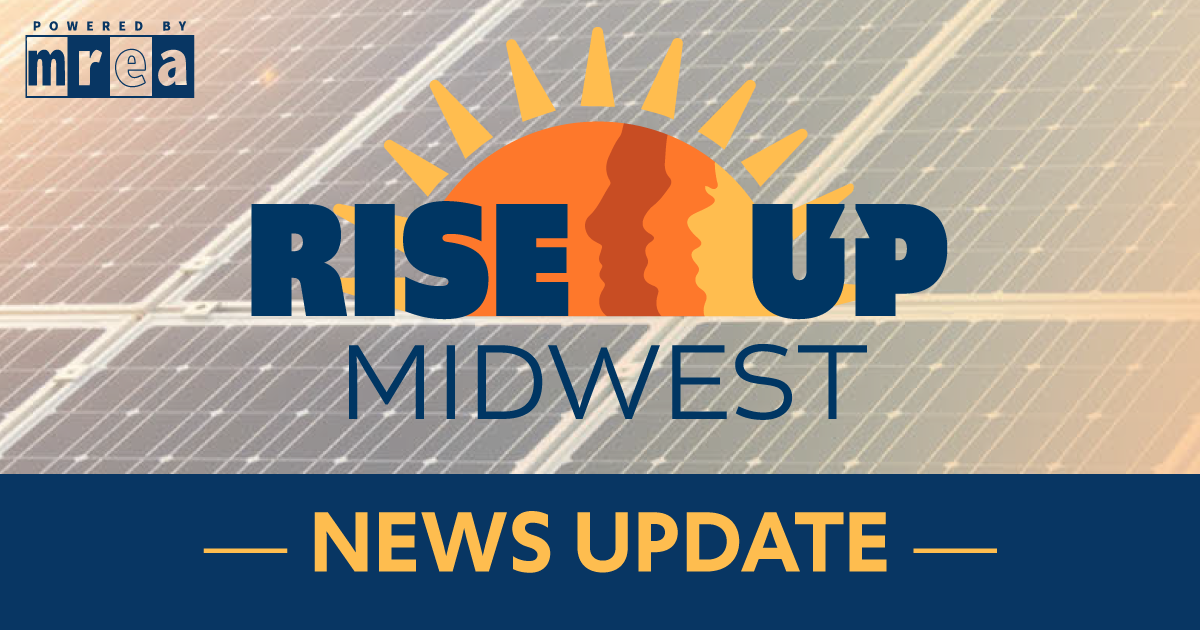 Listen to the Rise Up Podcast
The Rise Up Podcast brings real-time, relevant energy and policy information to Midwest stakeholders. 
Sign up For Action Alerts Receive real-time emails highlighting news articles, relevant resources, local successes, and ways to get involved.
Partner with Rise Up 
We believe in the people of the Midwest. We believe the clean energy industry has the capacity to collaborate, create jobs, & contribute to an economic recovery. If you agree, join the coalition as a partner today.
Support Rise Up Midwest!
Our success is made possible by support, participation, and funding of our members, donors, and sponsors. Thank you! Address: 7558 Deer Rd. Custer, WI 54423
Email: info@riseupmidwest.org
Phone: 715-592-6595

The Midwest Renewable Energy Association (MREA) is a non-profit organization with the mission to promote renewable energy, energy efficiency, and sustainable living through education and demonstration.