Last month, Forbes published an article arguing that what the post-pandemic world needs is a solar energy revolution. The article details what many of us in the clean industry already know: solar energy is cheap, solar investments result in above average returns, and the industry and workforce have grown significantly in the last decade.
In addition to being profitable in the medium and long term, energy policies, including clean energy and energy efficiency, would generate well-paying jobs in an established and fast-growing industry, laying the foundations for a stable economic recovery. 
For these reasons and more, the Rise Up Midwest campaign is taking a regional approach and working with our partners to showcase successful and scalable energy policies currently used in Midwest states. Our efforts are focused on creating market certainty for energy efficiency and distributed generation. To do this, we are focusing our public education campaign to highlight the success and promote the expansion programs that:
1. Expand Access to Energy Efficiency and Distributed Energy for Households and Small Businesses. This includes highlighting the recent expansion of the MN Solar Rewards program, the Iowa Solar Net Metering Legislation, and advocating for the expansion of the Wisconsin Focus on Energy Program. 
2. Increase Advantageous Financing and Reduce Barriers for Local Energy Efficiency and Solar Energy Development. This includes highlighting city actions such as the St. Louis Building Performance Standard, facilitating jurisdiction SolSmart designations, and promoting public-private financing partnerships such as the PACE Wisconsin program. 
3. Provide Appropriate, Long-Term Compensation for Solar and Wind Energy. This includes utility programs such as the PV Demand Credit in MN and state commission actions such as the long-term PURPA contracts for wind and solar facilities in Michigan. 
4. Support Workforce Development Efforts that Expand Employment Access in Advanced Energy. This includes promoting the IL Solar for All Program and the MN Dept. of Corrections solar training efforts.  
Rise Up Midwest is working with stakeholders to define opportunities to rapidly scale investment in energy efficiency and clean energy. And, we are building partnerships and outreach networks to help ensure that these opportunities are foremost priorities in our economic recovery efforts. #RiseUpMidwest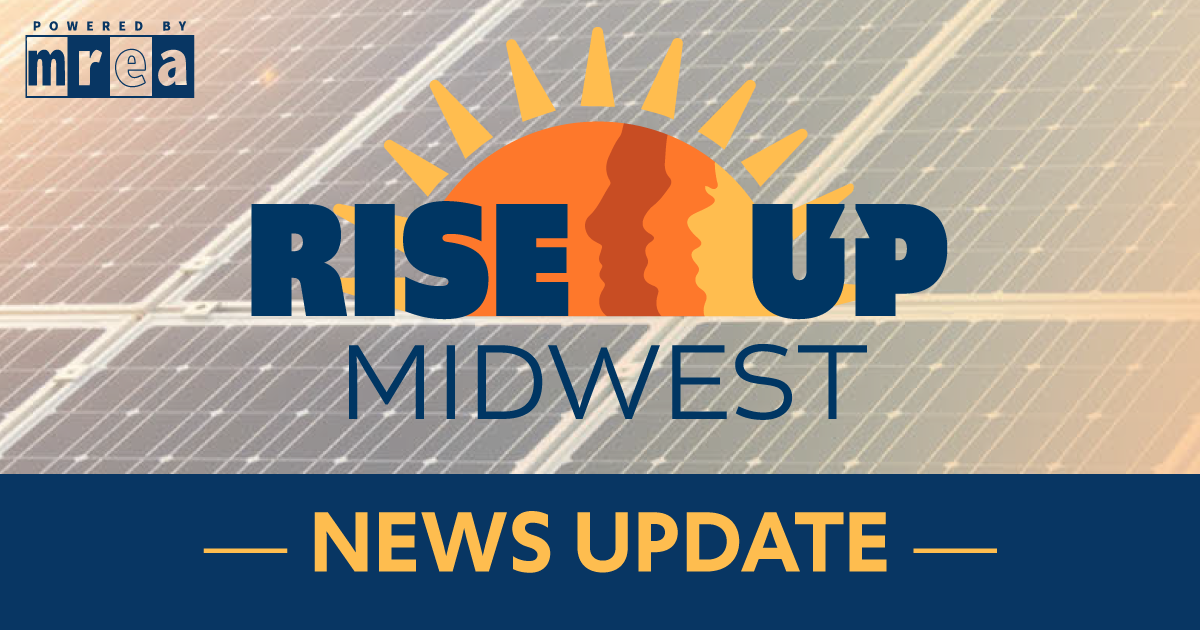 Learn More About Rise Up Midwest!
Let's stimulate "Main Street" energy investment and grid modernization in response to the COVID-19 recession.
Your support is essential.
Sign up For Action Alerts Receive real-time emails highlighting news articles, relevant resources, local successes, and ways to get involved.
Partner with Rise Up 
We believe in the people of the Midwest. We believe the clean energy industry has the capacity to collaborate, create jobs, & contribute to an economic recovery. If you agree, join the coalition as a partner today.
Support Rise Up Midwest!
Our success is made possible by support, participation, and funding of our members, donors, and sponsors. Thank you! Address: 7558 Deer Rd. Custer, WI 54423
Email: info@riseupmidwest.org
Phone: 715-592-6595

The Midwest Renewable Energy Association (MREA) is a non-profit organization with the mission to promote renewable energy, energy efficiency, and sustainable living through education and demonstration.