City of Dubuque leaders are proposing a program to help low- to moderate-income residents install solar panels on their homes.
Dubuque City Council members at their Tuesday, July 6, meeting will consider the Renew DBQ pilot project to install the panels on 10 homes — saving residents money in the long run and helping the city toward its greenhouse gas reduction goals.
"We're really just trying to refine how we approach reducing the energy burden for families while also enjoying the economic and environmental benefits," said Gina Bell, the city's sustainable community coordinator.
Under the pilot, city staff would work with entities such as Dubuque County Energy District and local solar installers to identify interested low- to moderate-income homeowners in the downtown urban renewal district to install solar panels at an average size of about 5 kilowatts per household.
The total cost to install the panels would be about $10,000, but with tax credits, grants and the sale of energy credits, homeowners would pay about $2,600, according to council documents. Households would save about $800 to $1,000 annually in energy costs and about $30,000 over the 25-year lifespan of the solar panels.
"If you're paying 10% of your income to your energy bill, and that lowers, then we're hoping people have some extra money to put toward other purchases or needs," Bell said.
The city would create a market for solar renewable energy credits. The city would pay homeowners in the program to cover the costs of the credits and claim them as part of its effort to reduce community greenhouse gas emissions by 50% by 2030.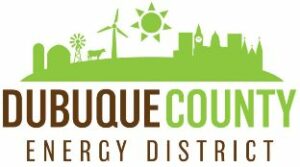 OUR VISION
We envision one hundred percent sustainable, efficient, and/or renewable energy by 2050 contributing to a vibrant economy, resilient community, and stable climate for generations to come.
OUR MISSION
Our mission is to implement the vision through education, energy planning, market transformation, investment, advocacy, and partnership in Dubuque County, and also to catalyze and support an energy district movement in Iowa and beyond.
Listen to the Rise Up Podcast
The Rise Up Podcast brings real-time, relevant energy and policy information to Midwest stakeholders. 
Sign up For Action Alerts Receive real-time emails highlighting news articles, relevant resources, local successes, and ways to get involved.
Partner with Rise Up 
We believe in the people of the Midwest. We believe the clean energy industry has the capacity to collaborate, create jobs, & contribute to an economic recovery. If you agree, join the coalition as a partner today.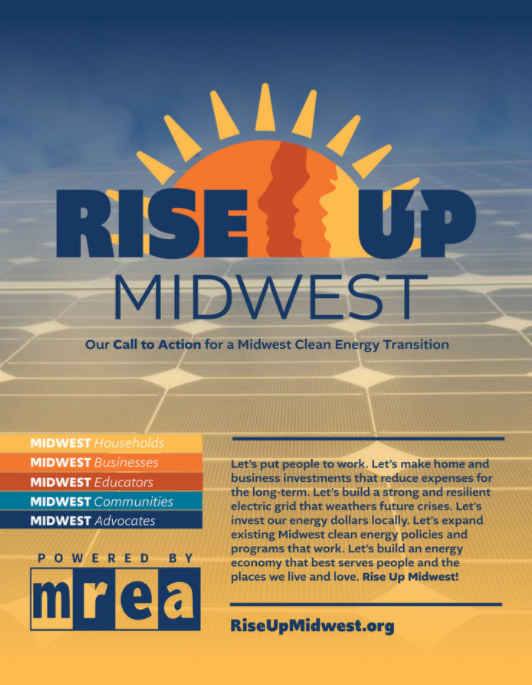 Address: 7558 Deer Rd. Custer, WI 54423
Email: info@riseupmidwest.org
Phone: 715-592-6595

The Midwest Renewable Energy Association (MREA) is a non-profit organization with the mission to promote renewable energy, energy efficiency, and sustainable living through education and demonstration.