FROM OUR PARTNERS AT FRESH ENERGY
After a multi-year stakeholder process, rigorous debate at the Minnesota legislature, and final negotiations in conference committee, the Energy Conservation and Optimization Act, also known as ECO Act, passed floor votes and was signed into law by Governor Tim Walz on May 25, 2021.
The ECO Act, a Walz Administration priority, is a bipartisan bill that provides critical updates to Minnesota's bedrock energy efficiency policy, the Conservation Improvement Program (CIP). Key updates include increased utility spending on programs serving under-resourced customers and fuel switching incentives for Minnesota's investor-owned utilities and co-ops.
"The Conservation Improvement Program has been saving Minnesotans money on their utility bills for nearly 40 years and we're pleased its legacy will continue," said Michael Noble, executive director of Fresh Energy. "This bill is a powerful model for how stakeholders and legislators can collaborate on policy that will benefit all Minnesotans and help the state meet decarbonization goals in an equitable way."
The language in the ECO Act is the result of significant stakeholder input from electric co-ops, municipal utilities, investor-owned utilities, the state's largest natural gas utility, clean energy advocates including Center for Energy and Environment (CEE) and Fresh Energy, consumer advocates including the Energy CENTS Coalition and Citizens Utility Board (CUB), and others. The ECO Act is a critical component of Governor Tim Walz's plan to eliminate greenhouse gas emissions from electricity in Minnesota by 2040. 

Fresh Energy is an independent nonprofit organization working to speed the transition to a clean energy economy. Our team of attorneys, analysts, economists, and educators advances forward-looking policies that benefit our communities and our future. Using data, science, and market-based solutions Fresh Energy helps Minnesota make progress toward a vision we can all share: an economy we thrive in and energy that ensures our well-being.
Rise Up Podcast Season 2 Out Now!
We bring real-time, relevant energy and policy information to Midwest stakeholders. 
Sign up For Action Alerts
We highlight policy news, resources, local successes, and ways to get involved.
Partner with Rise Up 
We believe the clean energy industry has the capacity to create employment opportunities that contribute to a prosperous economy.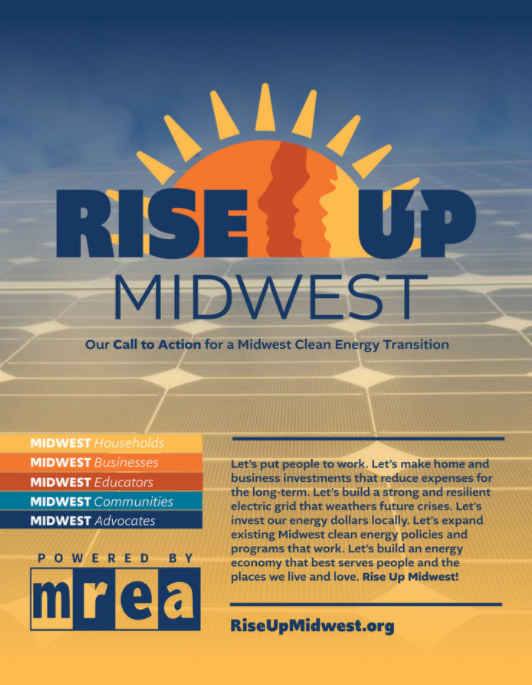 Address: 7558 Deer Rd. Custer, WI 54423
Email: info@riseupmidwest.org
Phone: 715-592-6595

The Midwest Renewable Energy Association (MREA) is a non-profit organization with the mission to promote renewable energy, energy efficiency, and sustainable living through education and demonstration.