After months of declining to endorse any specific plan to both get Illinois on a path to 100% renewable energy and crack down on public utilities' power in Springfield, Gov. JB Pritzker on Wednesday April 28th entered the already raucous fight with his own legislation, Consumers and Climate First Act, that will compete with at least three other proposals that have already been introduced.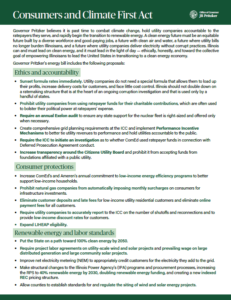 Pritzker's plan incorporates some elements of the other already-proposed measures, including ending an energy rate formula lawmakers approved in 2011, championed by utility giants Commonwealth Edison and Ameren. The proposal would also phase out coal by 2030, and end natural gas use by 2045 by reducing caps on greenhouse gas emissions year over year, and implementing an $8 per ton carbon price on emissions from fossil fuel-fired electric plants.
Atop a fact sheet distributed to stakeholders, Pritzker's office said the governor "believes it is past time to combat climate change, hold utility companies accountable to the ratepayers they serve, and rapidly begin the transition to renewable energy."
The Governor's plan adds to the growing proposed legislation in the state.
The Clean Energy Jobs Act aims to make Illinois 100 percent reliant on clean and renewable energy by 2050. The Path To 100 is a similar plan and supporters say it would create more than 53,000 jobs. And the Climate Union Jobs Act would make sure nuclear power remains a big part of the state's energy infrastructure. On April 30th The 21st Show, hosted by Illinois Public Media, talked with three guests about the plans, plus the effects on jobs and consumers if they became law.
Listen to the Rise Up Podcast
The Rise Up Podcast brings real-time, relevant energy and policy information to Midwest stakeholders. 
Sign up For Action Alerts
Receive real-time emails highlighting news articles, relevant resources, local successes, and ways to get involved.
Partner with Rise Up 
We believe in the people of the Midwest. We believe the clean energy industry has the capacity to collaborate, create jobs, & contribute to an economic recovery. If you agree, join the coalition as a partner today.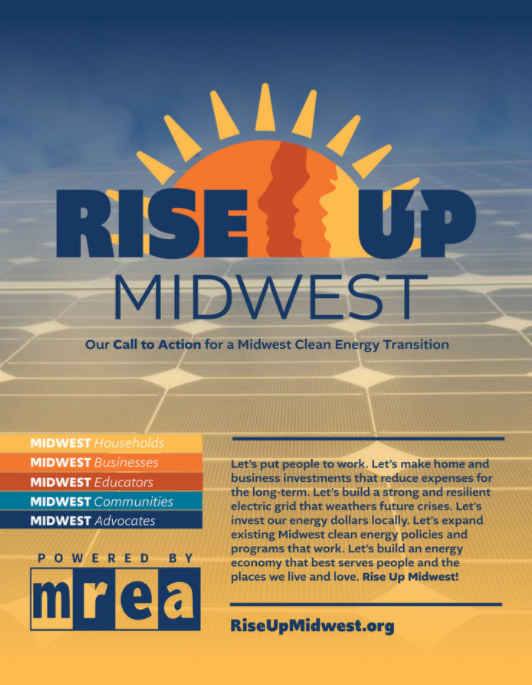 Address: 7558 Deer Rd. Custer, WI 54423
Email: info@riseupmidwest.org
Phone: 715-592-6595

The Midwest Renewable Energy Association (MREA) is a non-profit organization with the mission to promote renewable energy, energy efficiency, and sustainable living through education and demonstration.