Via Illinois Capital News-
The Illinois Senate approved a massive clean energy omnibus package after midnight on Tuesday evening, clearing the last major piece of Governor J.B. Pritzker's political agenda for a vote in the House.
The proposal aims to put one million electric vehicles on Illinois roads over the next nine years, and to transition the sixth largest state in the nation to a 100% clean energy sector by 2050. The plan would shutter private, for-profit coal powered plants that generate more than 25 megawatts of electric generating units by 2030, and it would close down municipally-owned coal-fired power plants and natural gas power plants by a deadline of 2045.
Listen to the Rise Up Podcast
The Rise Up Podcast brings real-time, relevant energy and policy information to Midwest stakeholders. 
Sign up For Action Alerts
Receive real-time emails highlighting news articles, relevant resources, local successes, and ways to get involved.
Partner with Rise Up 
We believe in the people of the Midwest. We believe the clean energy industry has the capacity to collaborate, create jobs, & contribute to an economic recovery. If you agree, join the coalition as a partner today.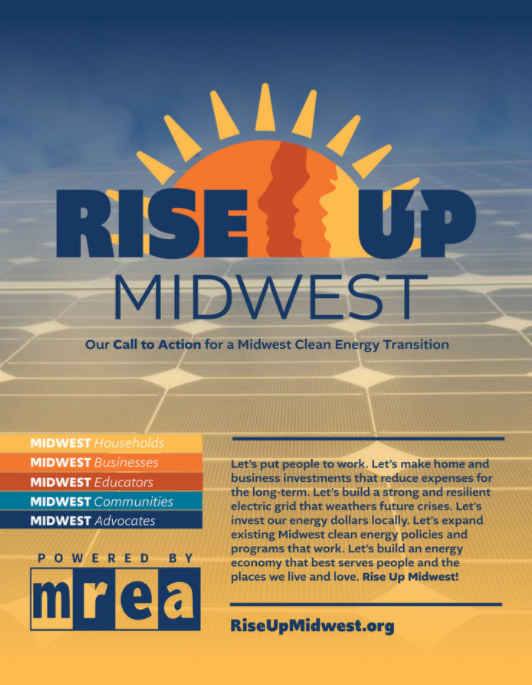 Address: 7558 Deer Rd. Custer, WI 54423
Email: info@riseupmidwest.org
Phone: 715-592-6595

The Midwest Renewable Energy Association (MREA) is a non-profit organization with the mission to promote renewable energy, energy efficiency, and sustainable living through education and demonstration.