Nearly two dozen employers across the state urge lawmakers to strengthen clean energy and transportation programs during the 2021 legislative session. 
SPRINGFIELD, IL—Nearly two dozen companies and higher education institutions in Illinois urged state lawmakers today to accelerate the state's transition to 100% clean energy and build a cleaner, more equitable transportation system.
"We understand firsthand the substantial risks posed by inaction on climate change as well as the significant opportunities created by a transition to a zero-carbon economy," they wrote in a letter delivered to Governor J.B. Pritzker and the Illinois General Assembly. "Strengthening Illinois' clean energy and transportation programs will also help the state recover from the COVID-19 pandemic, build regulatory accountability, and secure a just future for communities disproportionately impacted by climate change." 
The signatories include Advocate Aurora Health, CommonSpirit Health, IKEA Retail US, Mars, Microsoft, Paypal, Salesforce, Schneider Electric, Siemens, Unilever, and the University of Illinois, among others. 
Their call for action comes at the start of a legislative session where climate legislation is expected to be a top priority. Among legislation likely to be considered is the Clean Energy and Jobs Act (CEJA), which was first introduced in 2018 and includes proposals to help Illinois achieve 100% renewable energy by 2050, transition to a carbon-free power sector by 2030, expand energy efficiency programs and electric vehicle infrastructure, and implement a just transition for fossil fuel workers.
"We need bold action now if we are to mitigate the worst impacts of climate change and build a better future for generations to come," said Patrick Flynn, vice president of sustainability at Salesforce. "Illinois has a unique opportunity to make a bold climate commitment and ensure a just and equitable transition to a low-carbon economy."
Throughout his term as governor, Gov. Pritzker has signaled his commitment to tackling the climate crisis. Last year, he released eight key principles for building a thriving, clean energy economy in Illinois and later called on the General Assembly to prioritize legislation in 2021 that would help the state achieve 100% clean energy.
"Siemens supports Gov. Pritzker's work to advance clean energy policies that promote equitable solutions, seek to create jobs, and will help the state of Illinois reach the next level of critical technology deployment in transportation electrification, sustainability and resilience," said Judy Martinez-Faye, head of external affairs, Midwest Region and Texas, Siemens USA. "We fully support and are looking forward to working with Gov. Pritzker's Energy Team regarding his principles for a clean and renewable economy in Illinois."
To date, companies have led the transition to renewable energy in Illinois. More than 100 Illinois companies have committed to powering their operations with 100% renewable energy and corporate renewable energy projects represent half of all renewable energy investments in Illinois. 
"The Illinois business community understands the opportunities presented by the transition to a net-zero emissions economy. That's why they are calling for smart clean energy policies that will help Illinois strengthen its economy, create new jobs and build back better as we recover from the COVID-19 pandemic," said Alli Gold Roberts, director of state policy at Ceres, the nonprofit sustainability group that organized the letter. 
Ceres is a sustainability nonprofit organization working with the most influential investors and companies to build leadership and drive solutions throughout the economy. For more information, visit ceres.org and follow @CeresNews.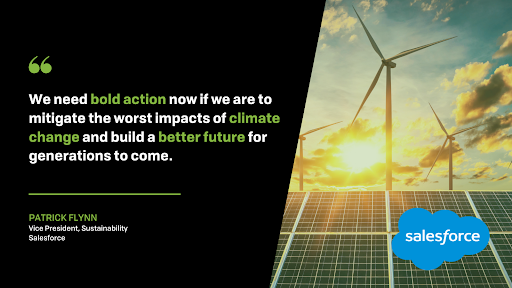 Listen to the Rise Up Podcast
The Rise Up Podcast brings real-time, relevant energy and policy information to Midwest stakeholders. 
Sign up For Action Alerts
Receive real-time emails highlighting news articles, relevant resources, local successes, and ways to get involved.
Partner with Rise Up 
We believe in the people of the Midwest. We believe the clean energy industry has the capacity to collaborate, create jobs, & contribute to an economic recovery. If you agree, join the coalition as a partner today.
Support Rise Up Midwest!
Our success is made possible by support, participation, and funding of our members, donors, and sponsors. Thank you!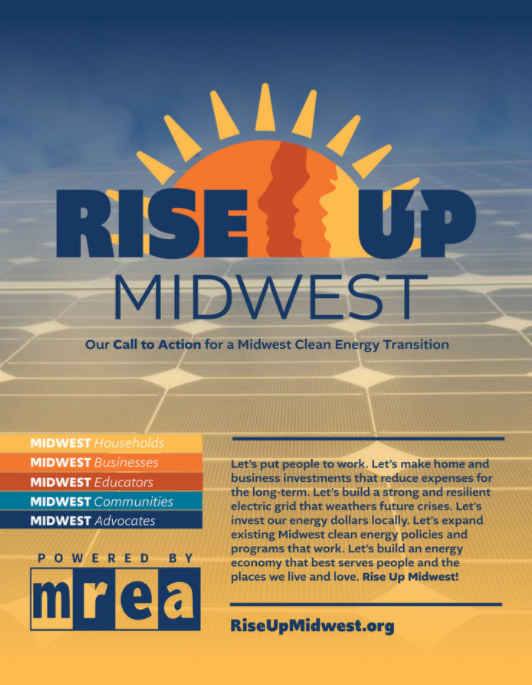 Address: 7558 Deer Rd. Custer, WI 54423
Email: info@riseupmidwest.org
Phone: 715-592-6595

The Midwest Renewable Energy Association (MREA) is a non-profit organization with the mission to promote renewable energy, energy efficiency, and sustainable living through education and demonstration.