Via MiBiz:
Michigan's two largest investor-owned utilities have launched an "education campaign" as clean energy advocates tout the potential economic benefits of community solar energy and as lawmakers consider bills on the topic that the utilities oppose.
Jackson-based Consumers Energy and Detroit-based DTE Energy today announced the partnership, which highlights the companies' efforts to build out solar projects that customers can subscribe to based on their needs.
Known as community solar, the type of clean energy development is meant to provide investment opportunities to people who might not otherwise be able to afford or install home-based solar projects. Community solar also carries an equity component when subscriptions are covered by nonprofits but electric bill credits are delivered to low-income customer subscribers.
DTE and Consumers today called the new partnership a "first in the nation."
Consumers Energy's Solar Gardens program so far includes 4.5 megawatts (MW) of capacity at three subscription-based projects at Grand Valley State University, Western Michigan University and at a former manufacturing brownfield site in Cadillac. The Michigan Public Service Commission has approved up to 10 MW of capacity under the project. Consumers Energy's program also allows nonprofits that serve low-income customers or schools to participate while designated customers served by the organization receive the bill credits.
DTE's voluntary MIGreenPower program allows customers to offset their electricity use with renewable energy purchases. The program is supported in part by solar projects that DTE has built in Lapeer and Detroit.
Sarah Nielsen, executive director of transportation, renewables and storage at Consumers Energy, said during a virtual press conference today that the company's community solar efforts "run contrary to out-of-state developers" who seek to "destabilize" Michigan's grid with unregulated projects.
Nielsen added that Consumers would consider expanding its community solar program based on demand.
"As the utilities here in Michigan, what DTE and Consumers are able to do that no one else can do is look across the entire service territory to ensure costs are equitable and ensure the costs are just for everyone," Nielsen said. "The challenge when you have developers come in: They're only looking at one little piece of that grid to benefit those customers that are oftentimes the only ones able to afford those benefits."
Nielsen was referencing a debate in Michigan that's attracted more attention in recent weeks. 
Last week, community solar advocates released a study they commissioned from Michigan State University showing roughly $1.5 billion in economic benefits and the addition of nearly 20,000 jobs over three decades under a potential scenario that built out 900 MW of community solar over the next six years.
Meanwhile, the state House Energy Committee is scheduled to hold a hearing Wednesday morning on two bills that would allow third party developers to build subscription-based solar projects.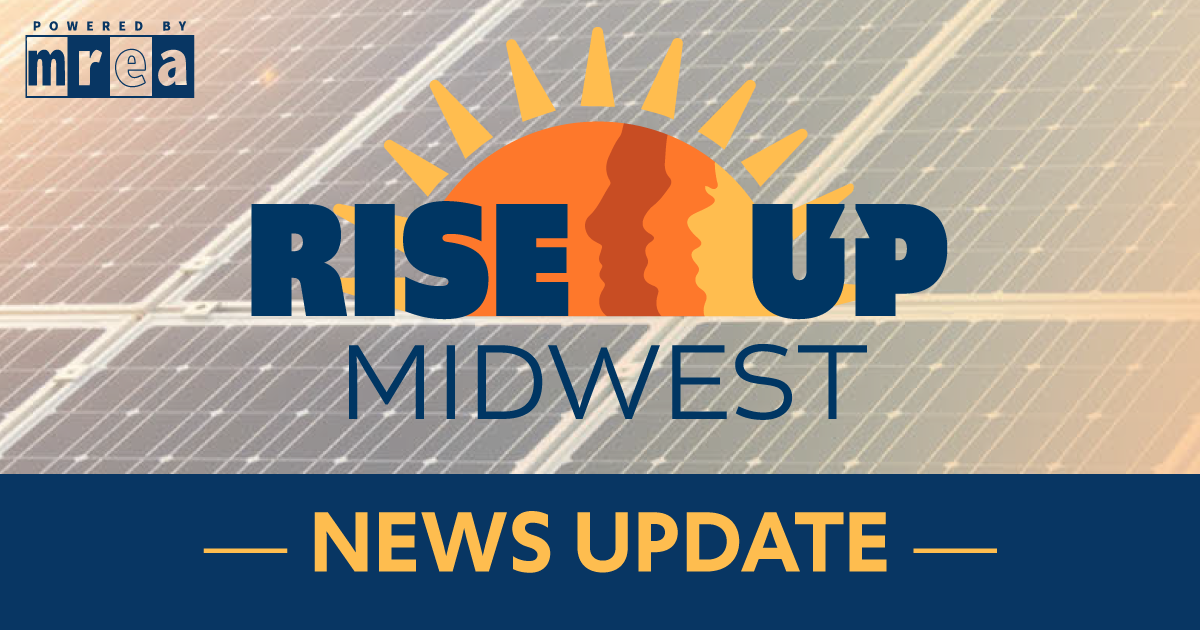 Listen to the Rise Up Podcast
Catch up on Season 2 now, where we bring real-time, relevant energy and policy information to Midwest stakeholders. 
Sign up For Action Alerts
We highlight policy news, resources, local successes, and ways to get involved.
Partner with Rise Up 
 We believe the clean energy industry has the capacity to collaborate, create jobs, & contribute to an economic recovery.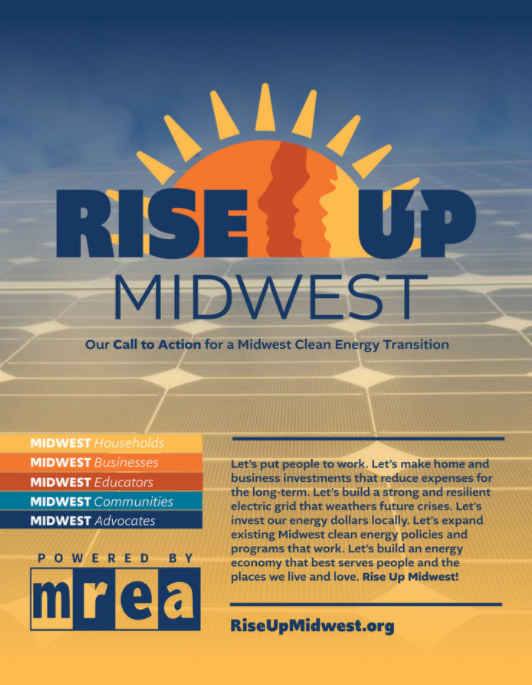 Address: 7558 Deer Rd. Custer, WI 54423
Email: info@riseupmidwest.org
Phone: 715-592-6595

The Midwest Renewable Energy Association (MREA) is a non-profit organization with the mission to promote renewable energy, energy efficiency, and sustainable living through education and demonstration.