Indiana:
The Indiana Volkswagen Environmental Mitigation Trust Program Committee (committee) approved $5.535 million in funding to the Indiana Utility Group to install at least 61 DC Fast electric vehicle (EV) charging stations across Indiana at its meeting on May 20, 2021.
The Indiana Utility Group is made up of eight Indiana utilities: Duke Energy Indiana; Hoosier Energy REC, Inc.; Indiana Michigan Power; AES Indiana (Indianapolis Power & Light Company); Northern Indiana Public Service Co. (NIPSCO); Vectren; Wabash Valley Power Alliance; and Crawfordsville Electric Light & Power.
While the plans are in their early stages, the committee is excited to fund DC Fast EV charging stations to help meet Indiana's future transportation needs as more auto manufacturers offer EV choices. Having a network of DC Fast charging stations that can charge some EVs in as little as 20 minutes allows Indiana consumers to more easily consider the environmental benefits of purchasing an electric vehicle. 
Missouri: 
Missouri is poised to add electric vehicle charging to some of its state parks. Governor Mike Parson signed an approved budget measure approved by the state Legislature  to provide $1 million to the state Department of Natural Resources to begin installing stations in parks, the St. Louis Post-Dispatch reports. 
The plan is in early stages, but mirrors efforts in other states: West Virginia provides free electric vehicle charging stations at nine state parks. South Carolina hosts three charging stations within one park. And in March, Colorado began efforts to build an entire fleet of charging stations throughout its state parks. 
Illinois: 
Illinois Governor JB Pritzker set a goal of seeing one million electric vehicles on the state's roads by 2030. The state is working towards efforts to make that goal a reality.
The Governor has proposed a $4000 tax rebate towards electric vehicle purchases within the state in addition to plans underway to add more charging stations to facilitate the increase in electric vehicles on Illinois roads.
Additionally, the state hopes to position itself as an EV manufacturing hub in the U.S., with the potential to create thousands of jobs in the coming decades. Rivian will begin making electric vans in Regular, Illinois and Lion Electric is poised to begin construction on electric buses and vans in Joilet within the next 12 months.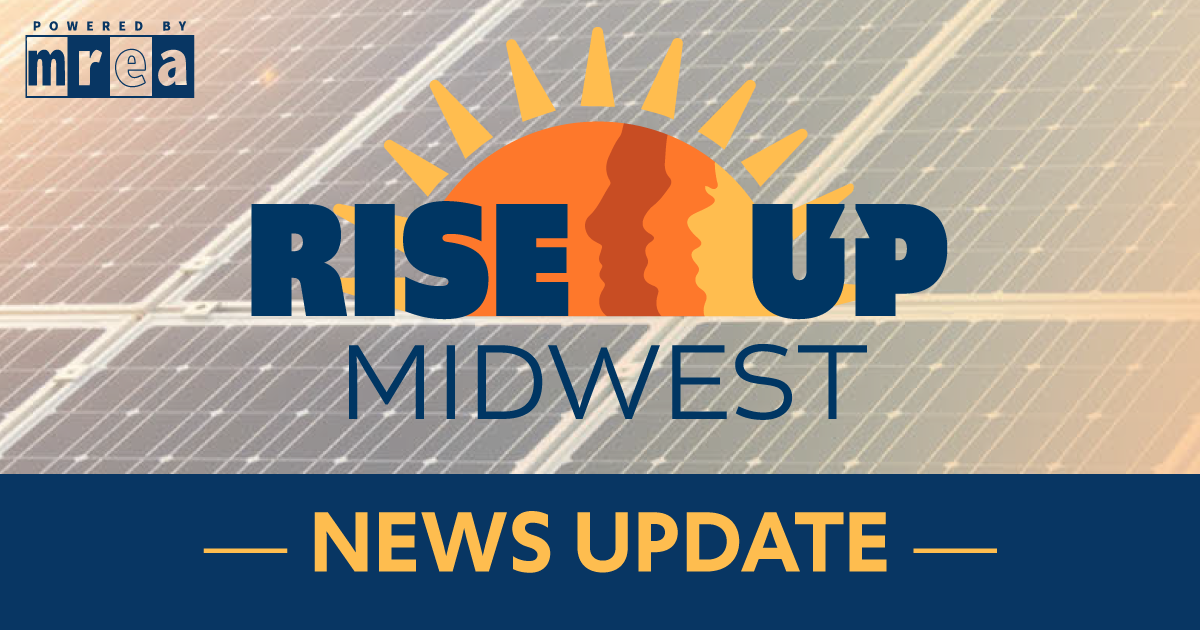 Listen to the Rise Up Podcast
Catch up on Season 1 now, where we bring real-time, relevant energy and policy information to Midwest stakeholders. 
Sign up For Action Alerts
We highlight policy news, resources, local successes, and ways to get involved.
Partner with Rise Up 
We believe the clean energy industry has the capacity to collaborate, create jobs, & contribute to an economic recovery.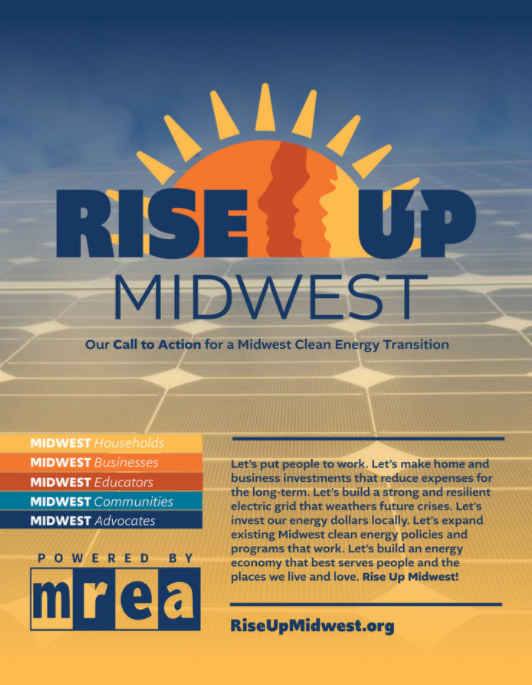 Address: 7558 Deer Rd. Custer, WI 54423
Email: info@riseupmidwest.org
Phone: 715-592-6595

The Midwest Renewable Energy Association (MREA) is a non-profit organization with the mission to promote renewable energy, energy efficiency, and sustainable living through education and demonstration.