ABC News 5 Cleveland: September 21, 2021
On the shores of Lake Erie inside the Great Lakes Science Center, the co-sponsors of the Energy Jobs and Justice Act unveil the 200 plus page piece of legislation that they argue encourages clean energy growth and energy waste reduction while curbing utility influence over policymaking and regulatory actions. Abuses at the heart of the House Bill 6 scandal.
"Unfortunately huge chunks of that bill are still in place," said State Rep. Casey Weinstein (D-Hudson), "and the environment that created it is still in place so we have big steps anti-corruption steps for transparency, accountability, and regulatory reform that ultimately will prevent overcharges for Ohioans and will allow growing industries to come into our state."
This bill is the culmination of many years of work from people across a wide range of industries, geographies and experiences. It's a testament to what can be accomplished when we come together in service of people and the planet, and has the potential to vitally transform our state's renewable energy landscape.
What does the Energy Jobs and Justice Act Do? The Energy Jobs & Justice Act categorizes revisions in Ohio law into three primary policy pillars that provide the accountability and transparency necessary to ensure an equitable energy landscape that exists to serve all Ohioans. The Energy Jobs & Justice Act places a focus on the development and implementation of clean energy and energy waste reduction standards that are proven to grow Ohio jobs and save Ohioans billions of dollars by decreasing energy consumption.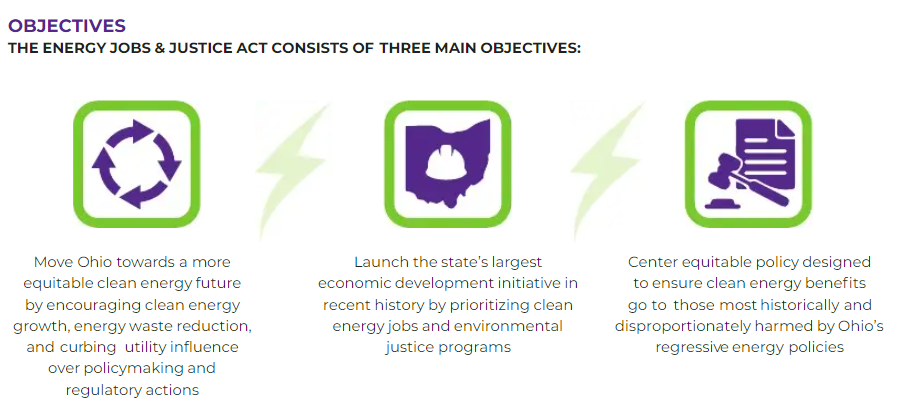 Listen to the Rise Up Podcast
Catch up on Season 2 now, where we bring real-time, relevant energy and policy information to Midwest stakeholders. 
Sign up For Action Alerts
We highlight policy news, resources, local successes, and ways to get involved.
Partner with Rise Up 
 We believe the clean energy industry has the capacity to collaborate, create jobs, & contribute to an economic recovery.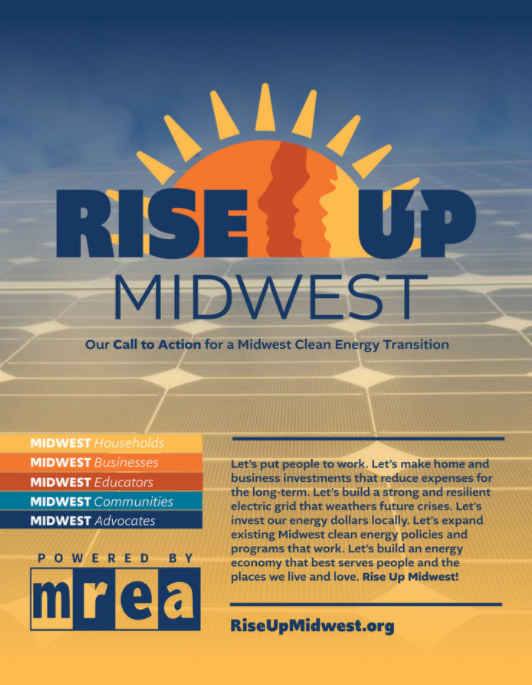 Address: 7558 Deer Rd. Custer, WI 54423
Email: info@riseupmidwest.org
Phone: 715-592-6595

The Midwest Renewable Energy Association (MREA) is a non-profit organization with the mission to promote renewable energy, energy efficiency, and sustainable living through education and demonstration.