The up-front cost of installing solar is often a barrier for customers, even though the value of the electricity produced from a solar electric system exceeds the installation costs after about seven years.
Third party financing— like auto leasing and paying for a new cell phone through monthly bills —  is a unique financing mechanism which allows customers to pay for solar over time. Utility bill savings from solar usually exceed the cost of third party financed solar. This not only makes solar affordable for more customers but provides much needed bill savings from day one. Unfortunately, utilities in Wisconsin oppose practical tools like third party financing that makes solar and energy efficiency affordable.
Working with the public interest law firm Earthjustice, the Midwest Renewable Energy Association (MREA) filed a lawsuit in Wisconsin Circuit Court on February 26th to remove this roadblock to solar energy ownership. MREA's litigation challenges flawed PSCW guidance documents that discourage third party financing and thus limit utility bill savings from solar to only those who can afford to purchase solar panels outright — which discriminates against lower-income customers.
"We have to put an end to the 'can't-do' attitude of the past that produced Wisconsin's outdated and overpriced fossil fuel infrastructure. We have better options. Families, businesses, schools, and churches want to innovate and invest in advanced clean energy, but Wisconsin's electric utilities are using faulty PSCW guidance to strengthen their monopoly control and reduce options for electricity ratepayers," said Nick Hylla, MREA's Executive Director.
Customers in the 28 U.S. states without roadblocks to third party financing are using arrangements like power purchase agreements and leases to reduce the upfront cost of owning solar. The agreements also reduce the cost of solar ownership for municipalities, schools, hospitals, and other institutions that can't take advantage of tax credits directly. Nationally, 79% of solar school capacity is installed under some type of third party financing arrangement. Third party ownership allows the benefits of tax credits to be passed along to non-taxed entities in the form of lower monthly payments.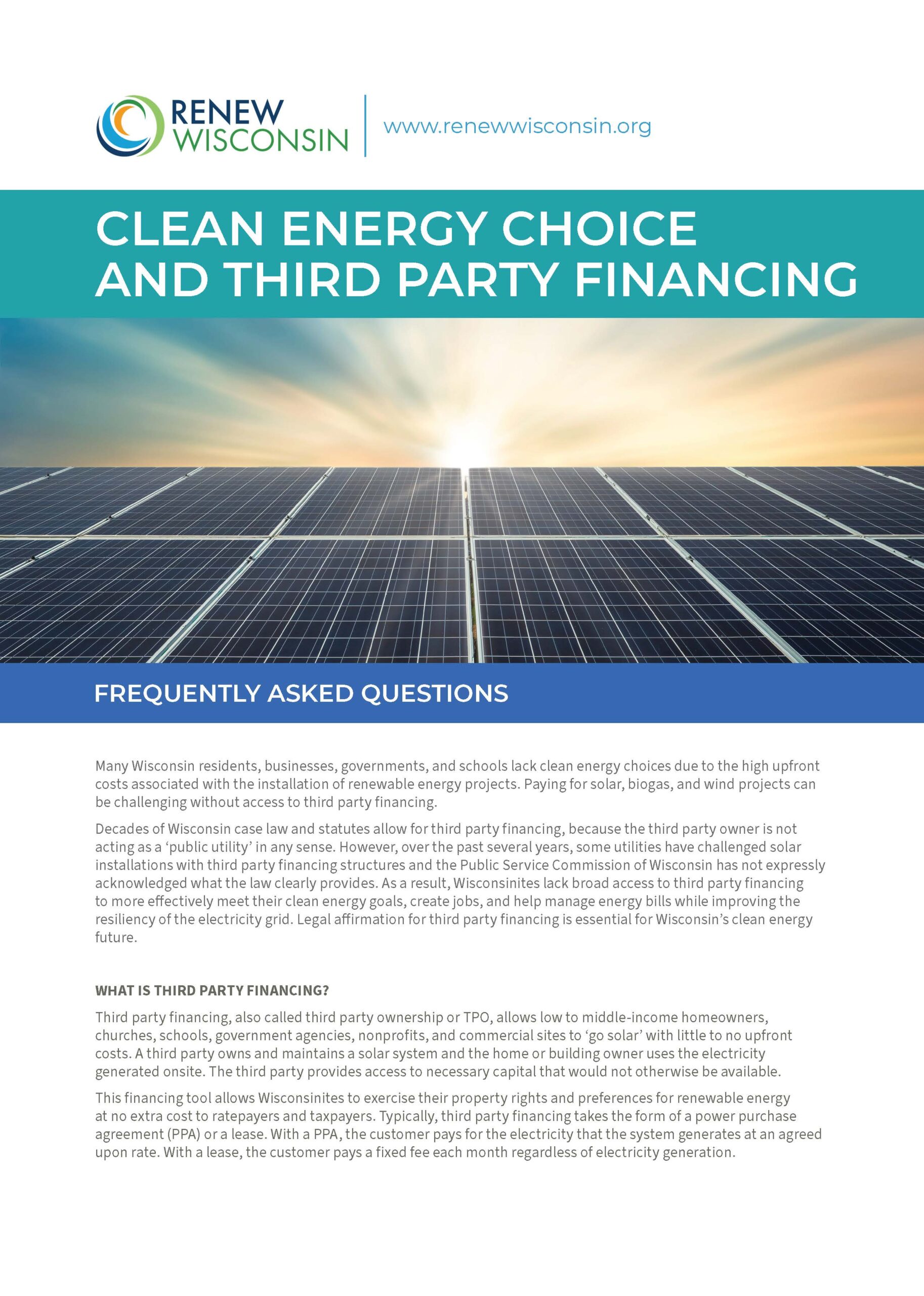 Listen to the Rise Up Podcast
The Rise Up Podcast brings real-time, relevant energy and policy information to Midwest stakeholders. 
Sign up For Action Alerts
Receive real-time emails highlighting news articles, relevant resources, local successes, and ways to get involved.
Partner with Rise Up 
We believe in the people of the Midwest. We believe the clean energy industry has the capacity to collaborate, create jobs, & contribute to an economic recovery. If you agree, join the coalition as a partner today.
Support Rise Up Midwest!
Our success is made possible by support, participation, and funding of our members, donors, and sponsors. Thank you!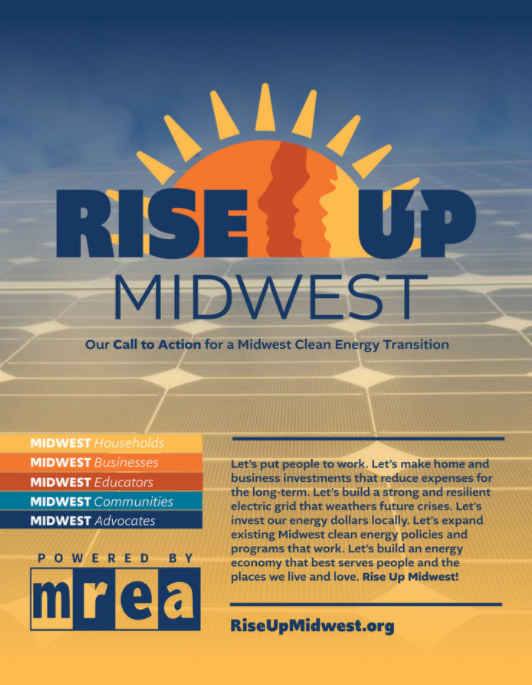 Address: 7558 Deer Rd. Custer, WI 54423
Email: info@riseupmidwest.org
Phone: 715-592-6595

The Midwest Renewable Energy Association (MREA) is a non-profit organization with the mission to promote renewable energy, energy efficiency, and sustainable living through education and demonstration.