Andy Johnson, Executive Director
Winneshiek Energy District
Iowa's solar tax credit has been critical to the growth of locally-owned solar in Winneshiek County and throughout Iowa. Thanks to oversubscription and linkage with a phasing out federal credit, its future is in jeopardy.
 
House File 221 would pay down the wait list, raise the annual cap, and decouple from the federal credit, and needs your support! This Iowa Solar Energy Trade Association page is an excellent resource for explanation, talking points, and legislator contact. Members of the House and (especially) Senate Ways and Means Committees are most critical. Be sure to ask your legislator if they are both supportive of HF221, AND if they are actively working with colleagues for passage.
While you're asking your elected leadership to support solar tax credits, ask them to oppose the natural gas protectionism of SSB 1126 and HF 555. These companion bills would prohibit cities and counties from regulating natural gas or propane, and are part of a nationwide attack by the gas industry on local clean energy and climate stewardship initiatives. The legislation would pre-empt local control, protect profits of out-of-state investor-owned gas companies over local clean energy wealth and job creation, and open the door for massive gas corporations to sue (or at least threaten) communities over energy efficiency and renewable energy efforts.
The mission of Winneshiek Energy District is to lead, implement, and accelerate the locally-owned, inclusive, clean energy transition in Winneshiek County. Our key strategies together build an unstoppable flywheel of momentum and include energy planning, market transformation, public engagement, policy advocacy, and readiness.
As the founding Energy District, our mission also includes the demonstration of the energy district model viability and the growth of an energy district network throughout Iowa and beyond.

Listen to the Rise Up Podcast
The Rise Up Podcast brings real-time, relevant energy and policy information to Midwest stakeholders. 
Sign up For Action Alerts
Receive real-time emails highlighting news articles, relevant resources, local successes, and ways to get involved.
Partner with Rise Up 
We believe in the people of the Midwest. We believe the clean energy industry has the capacity to collaborate, create jobs, & contribute to an economic recovery. If you agree, join the coalition as a partner today.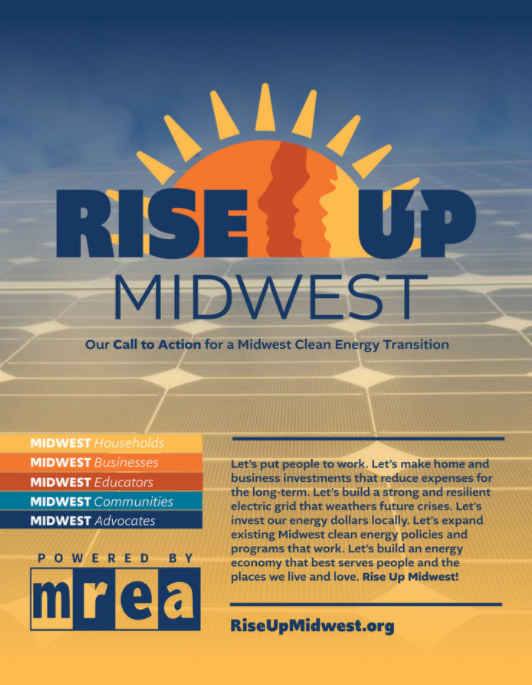 Address: 7558 Deer Rd. Custer, WI 54423
Email: info@riseupmidwest.org
Phone: 715-592-6595

The Midwest Renewable Energy Association (MREA) is a non-profit organization with the mission to promote renewable energy, energy efficiency, and sustainable living through education and demonstration.