Environmentalists hope Indiana will extend net metering rates for solar before time runs out. Net metering gives people with solar panels credits for any excess energy that they deliver to the grid. That was the topic of the Renewable Energy Day event, held in early February.
Four years ago, Indiana passed a law to slowly decrease the amount solar customers get for energy they generate — from the higher retail rate to the lower wholesale rate. Solar advocates say the law makes solar less affordable for homeowners and stifles job growth in the state's solar industry.
Lawmakers plan to look into the role of rooftop solar as part of a state energy task force, but won't finalize their recommendations until after higher net metering rates expire.
"My bill would extend net metering so we can see what the recommendations will be," said Sen. Shelli Yoder (D-Bloomington).
Yoder's bill is one of three in this year's legislative session that would either extend those rates by a few years or amend part of the law that allows utilities to phase down those rates earlier. The other two are Senate Bill 249 and House Bill 1394.
Listen to the Rise Up Podcast
The Rise Up Podcast brings real-time, relevant energy and policy information to Midwest stakeholders. 
Sign up For Action Alerts Receive real-time emails highlighting news articles, relevant resources, local successes, and ways to get involved.
Partner with Rise Up 
We believe in the people of the Midwest. We believe the clean energy industry has the capacity to collaborate, create jobs, & contribute to an economic recovery. If you agree, join the coalition as a partner today.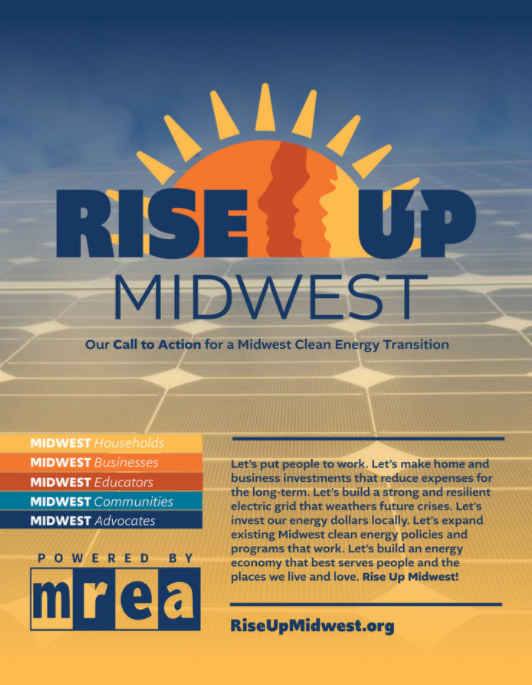 Address: 7558 Deer Rd. Custer, WI 54423
Email: info@riseupmidwest.org
Phone: 715-592-6595

The Midwest Renewable Energy Association (MREA) is a non-profit organization with the mission to promote renewable energy, energy efficiency, and sustainable living through education and demonstration.