Rise Up partner, Winneshiek Energy District in Iowa have a monthly Energy Breakfast (sometimes lunch) webinar series. While we encourage you to explore all the entire series, their April webinar featured Mechanical Engineer and Clean Grid Alliance Consultant, Natalie McIntyre, who gave a fantastic n overview of the US Electrical Grid and took a lot of audience questions!
We highly encourage those interested in learning about the history, current stage, and future potential of the US electric grid to watch the recorded webinar below.  
The mission of Winneshiek Energy District is to lead, implement, and accelerate the locally-owned, inclusive, clean energy transition in Winneshiek County. Our key strategies together build an unstoppable flywheel of momentum and include energy planning, market transformation, public engagement, policy advocacy, and readiness.
As the founding Energy District, our mission also includes the demonstration of the energy district model viability and the growth of an energy district network throughout Iowa and beyond.

Listen to the Rise Up Podcast
The Rise Up Podcast brings real-time, relevant energy and policy information to Midwest stakeholders. 
Sign up For Action Alerts Receive real-time emails highlighting news articles, relevant resources, local successes, and ways to get involved.
Partner with Rise Up 
We believe in the people of the Midwest. We believe the clean energy industry has the capacity to collaborate, create jobs, & contribute to an economic recovery. If you agree, join the coalition as a partner today.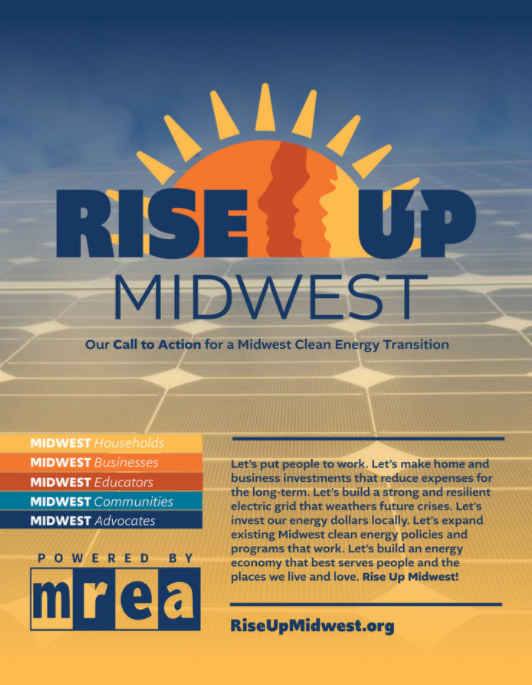 Address: 7558 Deer Rd. Custer, WI 54423
Email: info@riseupmidwest.org
Phone: 715-592-6595

The Midwest Renewable Energy Association (MREA) is a non-profit organization with the mission to promote renewable energy, energy efficiency, and sustainable living through education and demonstration.