When it comes to clean jobs, Illinois is falling behind. Right now, Illinois and Oregon are the only states in the country led by Democrats that haven't committed to 100% clean energy by 2050. CEJA can change all of that — it will make Illinois carbon-free by 2030, create thousands of much-needed equitable jobs, and hold utilities accountable without raising taxes, hiking electric bills, or giving bailouts to corrupt utility companies.
As Illinois faces an economic and public health crisis, a racial and economic justice crisis, and a crisis of utility corruption, leaders of the Illinois General Assembly and the Illinois Clean Jobs Coalition (ICJC) continue to urge the state more than ever to pass the recently reintroduced Clean Energy Jobs Act (CEJA) by May 2021.
With a new Biden administration pursuing rapid federal action on the climate crisis, a clean jobs champion serving as the new Speaker of the Illinois House, and CEJA champions taking over leadership of the Illinois Legislative Black Caucus, the urgency and opportunity to pass CEJA is at an all-time high.
Listen to the Rise Up Podcast
The Rise Up Podcast brings real-time, relevant energy and policy information to Midwest stakeholders. 
Sign up For Action Alerts Receive real-time emails highlighting news articles, relevant resources, local successes, and ways to get involved.
Partner with Rise Up 
We believe in the people of the Midwest. We believe the clean energy industry has the capacity to collaborate, create jobs, & contribute to an economic recovery.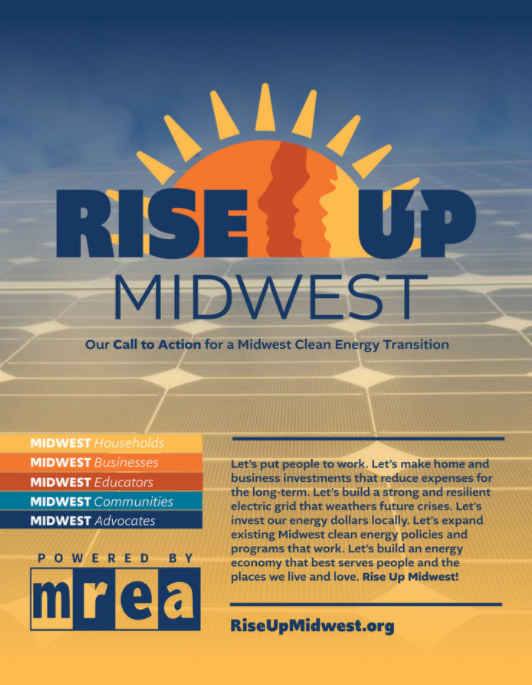 Address: 7558 Deer Rd. Custer, WI 54423
Email: info@riseupmidwest.org
Phone: 715-592-6595

The Midwest Renewable Energy Association (MREA) is a non-profit organization with the mission to promote renewable energy, energy efficiency, and sustainable living through education and demonstration.