Wisconsin utility regulators are exploring policy changes that could change how utilities compensate customers who generate electricity for the grid.
The Public Service Commission voted 2-1 March 4th to adopt new frameworks for calculating the prices utilities pay for privately generated electricity.
Known as "distributed generation," these systems — which can include rooftop solar panels and large industrial generators — allow businesses, municipalities and individuals to supply their own needs and send excess electricity onto the grid.
A 1978 federal law known as the Public Utility Regulatory Policies Act (PURPA), requires utilities to purchase energy from qualified independent producers at a rate equal to their "avoided costs" — or whatever it would cost the utility to produce or buy additional electricity.
But Wisconsin has never had a uniform method of calculating those avoided costs, which has led to what the Citizens Utility Board calls a "patchwork quilt" of policies and rates.
Environmental and consumer advocates say the current policies are outdated and unfair, discouraging investment in projects that can speed the transition away from fossil fuels at a lower cost to ratepayers. Reducing market barriers is key to expanding the value and use of customer owned generation across the state.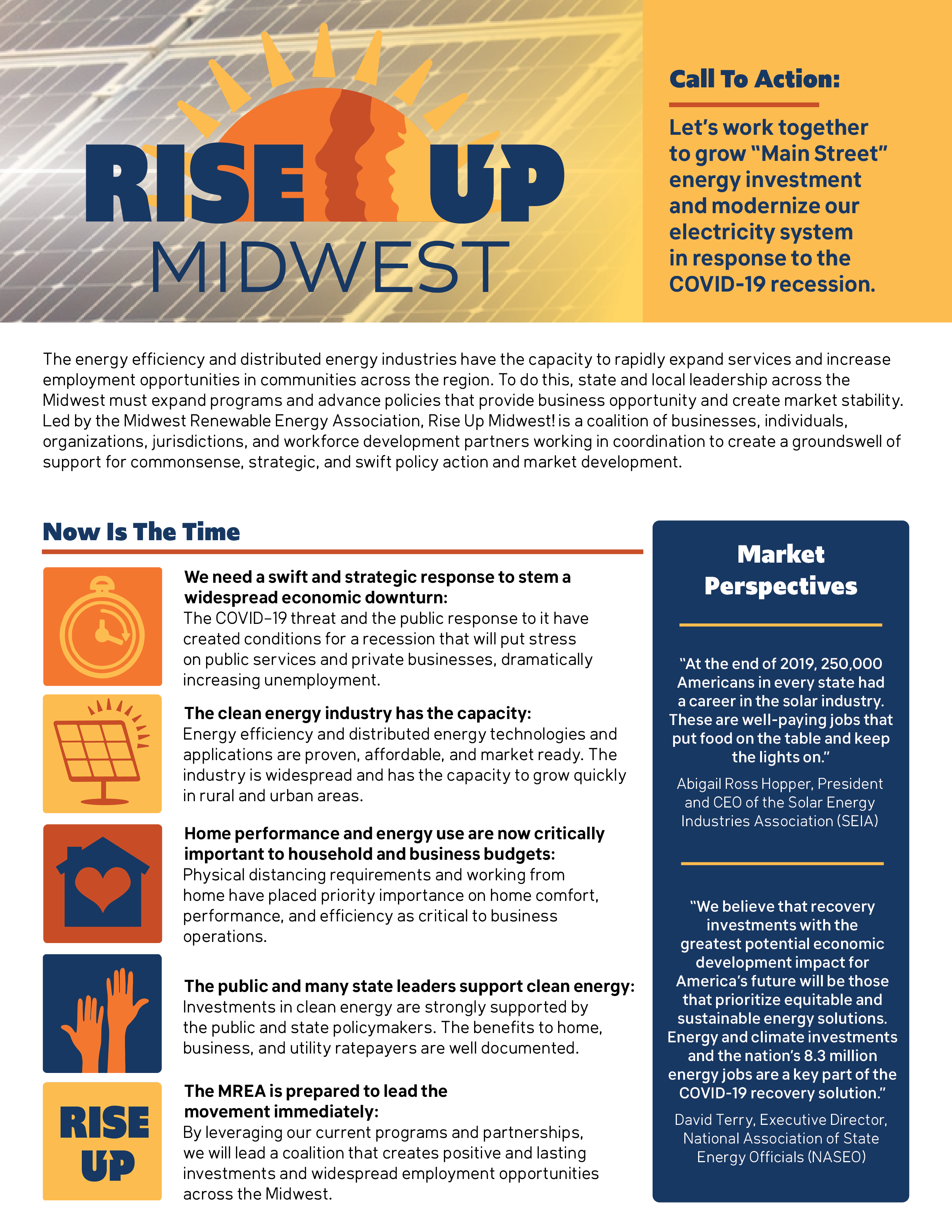 Listen to the Rise Up Podcast
The Rise Up Podcast brings real-time, relevant energy and policy information to Midwest stakeholders. 
Sign up For Action Alerts Receive real-time emails highlighting news articles, relevant resources, local successes, and ways to get involved.
Partner with Rise Up 
We believe in the people of the Midwest. We believe the clean energy industry has the capacity to collaborate, create jobs, & contribute to an economic recovery. If you agree, join the coalition as a partner today.
Support Rise Up Midwest!
Our success is made possible by support, participation, and funding of our members, donors, and sponsors. Thank you!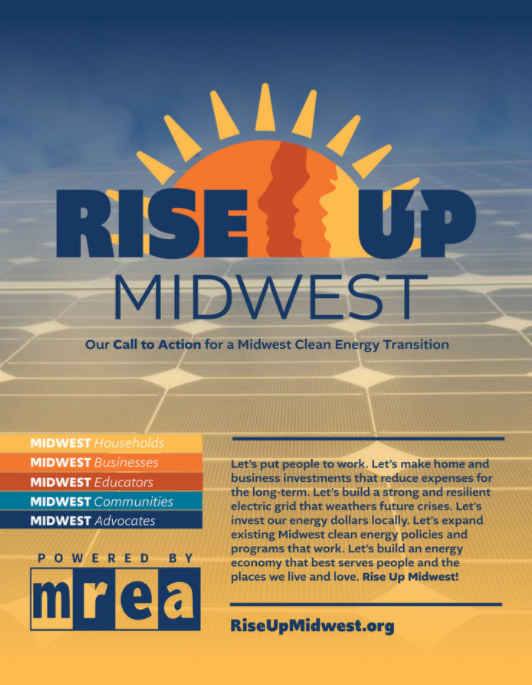 Address: 7558 Deer Rd. Custer, WI 54423
Email: info@riseupmidwest.org
Phone: 715-592-6595

The Midwest Renewable Energy Association (MREA) is a non-profit organization with the mission to promote renewable energy, energy efficiency, and sustainable living through education and demonstration.