Since mid-March, over 33 million Americans have filed for unemployment benefits, representing roughly 20% of the U.S. workforce. Even as state economies are beginning to open up in varying capacities, no roadmap exists for how to lift the state, national, and global economies from impacts of the COVID-19 recession.
In Michigan, a trade group has responded by positioning the state's clean energy industry as a means to mitigate the economic downturn and contribute to the state's economic recovery.
On May 11th, the Michigan Energy Innovation Business Council released a series of policy recommendations for state officials to resolve short-term job losses and allow the clean energy industry to be a "pillar of the economic recovery to come." The trade group outlined a series of administrative, legislative and regulatory policy actions including expanding energy efficiency projects, electric vehicle infrastructure, clean energy financing opportunities, and state land allocated for renewable energy development.
Energy efficiency and distributed generation, including solar PV, energy storage, and Electric Vehicle Supply Equipment (EVSE) are already being widely integrated into building infrastructure in Midwest states. For example, according to the Solar Energy Industry Association, 2019 saw 315 MW of new residential and commercial PV capacity added in Minnesota, Illinois, Wisconsin, and Iowa. Enabling programs and policies in each state like the Michigan Energy Innovation Business Council proposed, will help to continue this increased deployment in these developing markets.
Even more so, energy efficiency and distributed energy technologies and applications are proven, affordable, and market ready. The industry is widespread and has the capacity to grow quickly in rural and urban areas throughout the Midwest. Investments in clean energy are strongly supported by the public and state policymakers. The benefits to home, business, and utility ratepayers are well documented.
Let's put people to work. Let's make home and business investments that reduce expenses for the long-term. Let's build a strong and resilient electric grid that weathers future crises. Let's invest our energy dollars locally. Let's build an energy economy that best serves people and the places we live and love. Rise Up Midwest!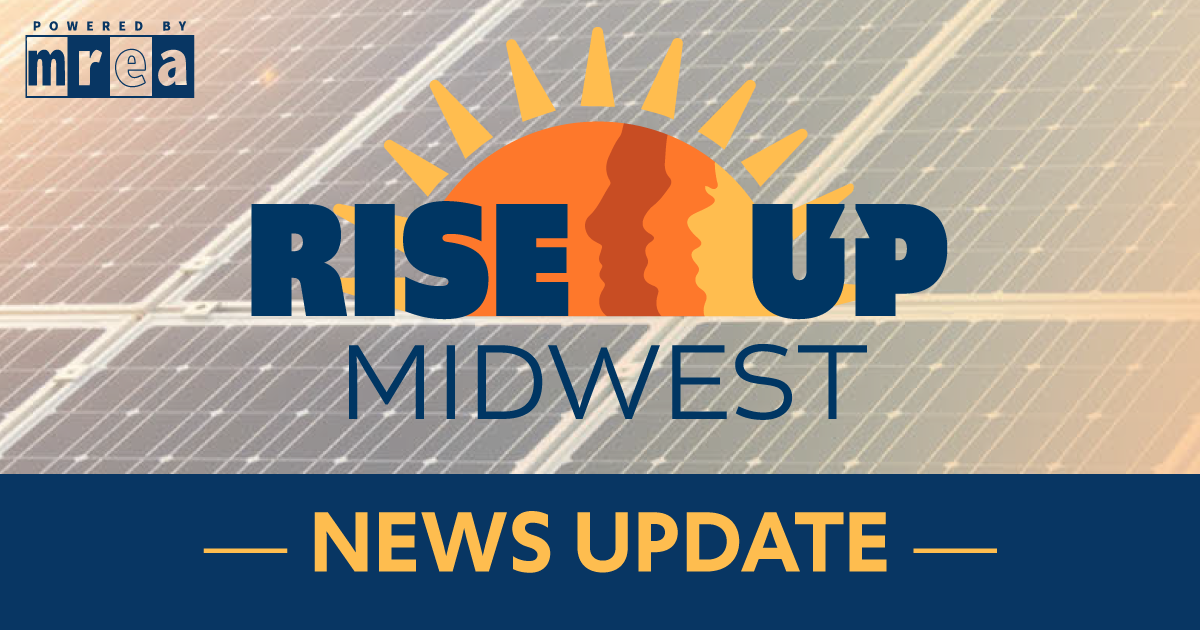 Learn More About Rise Up Midwest!
Let's stimulate "Main Street" energy investment and grid modernization in response to the COVID-19 recession.
Your support is essential.
Sign up For Action Alerts
Receive real-time emails highlighting news articles, relevant resources, local successes, and ways to get involved.
Partner with Rise Up 
We believe in the people of the Midwest. We believe the clean energy industry has the capacity to collaborate, create jobs, & contribute to an economic recovery. If you agree, join the coalition as a partner today.
Support Rise Up Midwest!
Our success is made possible by support, participation, and funding of our members, donors, and sponsors. Thank you! Address: 7558 Deer Rd. Custer, WI 54423
Email: info@riseupmidwest.org
Phone: 715-592-6595

The Midwest Renewable Energy Association (MREA) is a non-profit organization with the mission to promote renewable energy, energy efficiency, and sustainable living through education and demonstration.