As many of you are likely aware, the last 5 years of U.S. energy use has been defined by millions of Americans adopting energy efficiency and distributed energy technologies like solar and wind, making these technologies not only the most affordable electricity on the grid, but also the largest share of new electricity additions (and savings) year after year. This has supported a strong network of businesses, manufacturers, state agencies, local governments, lending institutions, and workforce development partners committed to growing an industry that employs people in all areas of the country. From rooftop solar and weatherization on local homes and businesses to large scale wind and solar farms to utility engineers and field crewed modernizing the distribution system, the industry claims some of the fastest growing professions in the country.
Fast forward to the past few weeks- as the impacts of COVID-19 are continually realized, Americans are witnessing unprecedented changes in energy prices and use. Oil prices have dropped dramatically, resulting in gas prices not seen in decades. There has been a significant, albeit likely temporary, decrease in overall energy use as businesses shutter their doors or reduce operations. As more Americans are working from home, energy use has shifted from office spaces to home offices. In some cases, utilities are proposing rollbacks on energy efficiency programs like the Missouri utility proposal we discussed last week. We've put together a news feed of relevant articles touching on how oil, gas, coal, renewable energy, and energy efficiency have all been affected by COVID-19 and we encourage you stay in the know. If you'd rather listen than read, we discuss these topics and more in our first Rise Up podcast episode, Physical Distancing, Social Uprising, released last week.
What does this mean for the future of U.S. energy use, energy efficiency, and distributed energy?
We believe the distributed energy and energy efficiency industries have the capacity and potential to help solve the economic crisis that will severely impact homes and small businesses in rural and urban areas across the region. We can create local jobs. We can reduce home and business energy expenses and increase building performance. With the home as the new workplace, this will be a priority for both household and business budgets. We can improve grid resiliency to weather future crises. And we can invest in local infrastructure and local energy sources, reducing the billions of dollars we spend annually on out of state purchases of fossil fuel.
After all, with the collapse of status-quo energy consumption, comes growth in opportunity. Rise Up Midwest!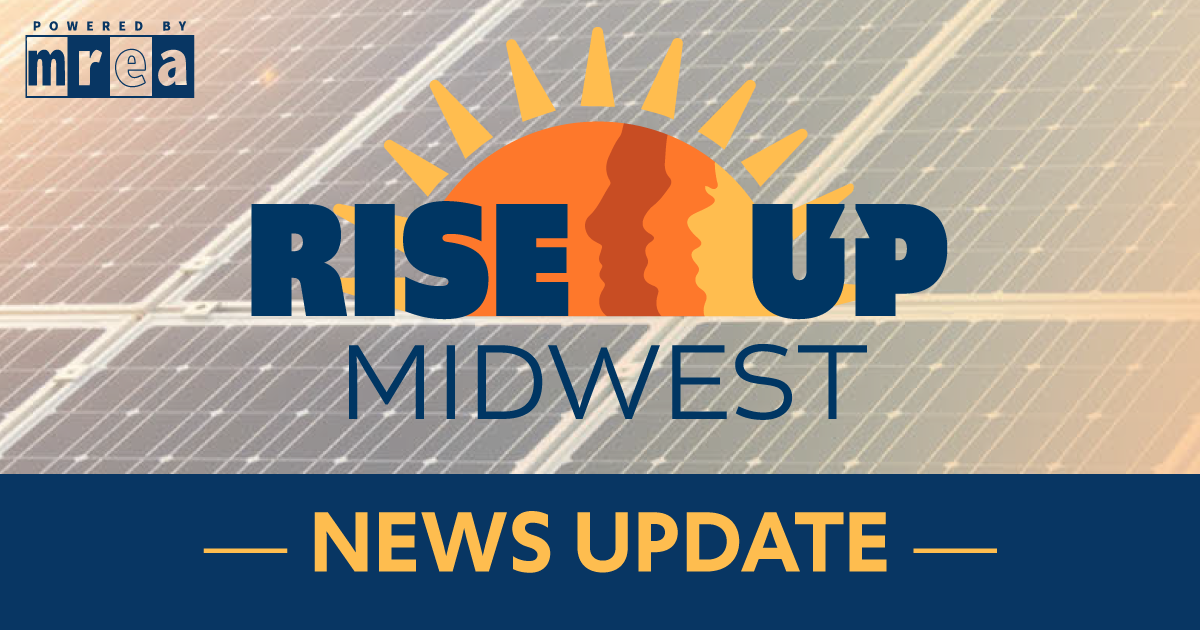 Learn More About Rise Up Midwest!
Let's stimulate "Main Street" energy investment and grid modernization in response to the COVID-19 recession.
Your support is essential.
Sign up For Action Alerts
Receive real-time emails highlighting news articles, relevant resources, local successes, and ways to get involved.
Take Action
Rise Up encourages you to join the movement to form a strong economy powered by clean energy.
Support Rise Up Midwest!
Our success is made possible by support, funding, and participation of our members, donors, and sponsors. Thank you! Address: 7558 Deer Rd. Custer, WI 54423
Email: info@riseupmidwest.org
Phone: 715-592-6595

The Midwest Renewable Energy Association (MREA) is a non-profit organization with the mission to promote renewable energy, energy efficiency, and sustainable living through education and demonstration.